Welcome to State College!
Penn State is one of the most iconic football programs in NCAA history, and routinely towards the top of the Big Ten standings. Game day at Penn State is no joke. The stadium parking lot opens at 7:00 AM for noon games, and at 8:00 AM for 3:30pm games.
So what are fans doing during all that time? AND what should you be on the lookout for once the game kicks off?
Well buckle up, because we're giving you everything you need to know about gamedays in Happy Valley...
The Penn State Tailgate
Few can deny that Penn State has one of the greatest tailgating traditions of any college team in the country. Period. Endstop.
The area surrounding the Beaver Stadium fills up with tens (if not hundreds) of thousands of fans on game day - and as the anticipation for kickoff mounts... so too does the delicious aroma of steaks, burgers, and hot dogs.
According to SI.com, it's worth it to pay for a "premium" parking pass, as the lots you'll have access to will give you special routes to your tailgate, and will shorten your wait to get out.
-----
Visit the Nittany Lion Shrine
While walking around campus on Saturday, make sure to check out and stop by the Nittany Lion Shrine. Many consider this shrine to be the heart of campus, and a symbol worth protecting at all costs.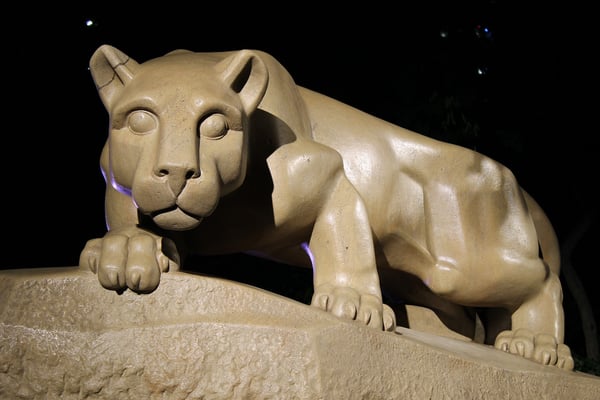 Legend has it that a group of rival fans once mapped out a plan to paint the shrine their color, which State fans responded to by camping out the night before the game and protecting it.
Of course, we here at Rent Like A Champion can't verify the truth of that story, so you'll just have to check out this shrine for yourself during your next trip... and see if any tents have been pitched to guard against vandals...
-----
Check Out Nittanyville
You want to see true college football passion?
Since 2005, Penn State students have camped outside of Beaver Stadium for the entire week leading up to a home game... all in an effort to get the best student section seats.
What started as a way to get the best seats, however, has turned into a campus institution - as students take part in a slew of contests, pep rallies, activities, and more as game day draws closer.
-----
Catch the Blue Buses
Seeing the Blue Buses roll up to the stadium is one of the coolest pre-game traditions in college football, and a great way to get immersed in the hype before kickoffs.
As the buses come into sight, car horns sound, tailgaters go nuts, and fan's cheer as the game's starting QB leads his team into the stadium. A must-see tradition for fans of all ages!
Check out a video of the Blue Buses arriving here!
-----
Drum Major Flip
In 1971, drum major Jeff Robertson did away with the baton twirl and shocked fans in Beaver Stadium with a backflip.
The rest, as they say, is history.
Now viewed as one of the most recognizable pregame traditions in the game, the drum major flip has been delighted fans for nearly 50 years.
BONUS: While you're watching the band, keep an eye out for the "Floating Lion" - a marching band spectacle in which the word "LION" is spelled out in one direction, before seamlessly being flipped the opposite direction for fans on both sidelines to enjoy.
-----
The Victory Bell
Started by Nittany Lions coach Rip Engle as a way to alert Penn State fans of away victories (back before smart phones, of course), "ringing the bell" now serves as a tradition following home victories.
Though it is not the original bell purchased by Engle, this bell will have been standing on the south side of Beaver Stadium for 40 years this fall (happy 40th birthday to The Victory Bell!).
-----
White Out
Perhaps the most iconic of all the traditions at PSU: the White Out game.
Once a year, often for the biggest home game on the schedule, fans flood Happy Valley dressed in white to create a visual that is all at once captivating... and intimidating... for everyone who gets to see it live.
While the S-Zone is an amazing sight in the student section, and the "Stripe Out" game has become another great yearly event... there's no tradition at Penn State that connects fans to their team more.
Check out a fantastic video of the White Out experience here!


PLUS! For more information about these traditions and more, check out this great article from PennLive!
Local Attractions
While campus is the heart of any game day festivities, State College has plenty to offer visitors outside of just football. If you get into town early on Friday or are dragging your feet about leaving Sunday, make sure to check out the town and some of its iconic shops, boutiques, and charm.


Berkey's Ice Cream
Every trip to state college should by default include a trip over to Penn State Berkey Creamery - an ice cream joint widely considered as one of the country's best.
Not only do they offer a wide variety of flavors, but they are also willing to ship your ice cream home, so you don't have to worry about it melting in your car. It's guaranteed to be pretty crowded on game day, but is definitely worth the wait.
-----
Downtown Shopping
Have some extra time? Want to go home repping your favorite State gear? Look no further than the plethora of shops the downtown area has to offer. Mclanahan's, Family Clothesline, or the bookstore all offer great apparel selections.
-----
Penn's Cave
Penn's Cave is a historic, 57 acre cave located just 30 minutes from State College.
Spend half a day exploring the amazing features the cave has to offer, either on your own or through one of their offered boat tours. Rich in natural history, Penn's Cave is sure to capture the imagination of anyone in your party.
-----
Grab a Bite or a Drink Downtown
Check out our posts on the Best Bars in State College as well as the Best Restaurants in State College to find the perfect place for your group to refuel on game day weekend!
Getting Around / Transportation
If you have a parking pass for the game, try getting into the stadium lot right when it opens at 7 or 8.
If not, avoid driving and parking at all costs, and instead try to walk or Uber/Lyft to campus (there is also a campus bus you could take that picks up and drops off at various points around campus and town).
Here are a few other tips on how to get around...
University Park Airport: Located only a few minutes from campus, this airport offers many direct flights into major cities. However, it can generally be relatively expensive to fly into here.
Harrisburg International Airport: Harrisburg is approximately 1.5 hours away from campus, but Route 322 offers beautiful scenery through the Narrows - especially as the leaves change colors.
While more of a drive than University Airport, it is generally cheaper to fly into this airport.
Parking: As you might expect, parking can be hard to find around campus (and all but impossible without a parking pass on campus). Read about all there is to know for parking your car on a game day, here.
And don't forget! The best way to experience all of these amazing Penn State traditions is by staying close to campus with a Rent Like A Champion weekend rental.
Book yours today and get on your way to State College!
Did we miss anything? Any recommendations? Let us know! Email info@rentlikeachampion.com