At Rent Like A Champion, we believe that every college football weekend is about more than just your experience at the game. That's why this year we're bringing you city guides to the best bars, restaurants, and activities that you can add to your game day itinerary...
Though Happy Valley might be mistaken for a sleepy little college town most of the year, on Penn State game days... tens of thousands of fans descend upon the campus, making it one of the most electric atmospheres in college football.
But even as these college football die hards swell the city's population, State College is more than well-enough equipped to keep these fans happy... and well-fed... with some storied, delicious restaurants all across the area.
But with so many options, which ones should you choose for you game day grub?
Here are a few of our favorites...


1229 N Atherton St ♦ (814) 238-7460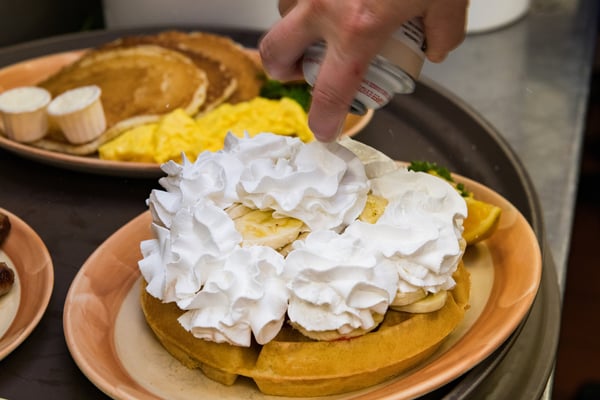 Photo credit: Original Waffle House website
Start your day off right with the best breakfast in town at The Original Waffle Shop. Serving up deliciously fluffy waffles topped with numerous combinations of fruit, nuts and, of course, plenty of whipped cream - this iconic Penn State hot spot also boasts plenty of other traditional breakfast favorites. Try their Eggs Benedict, Minced Ham with Eggs, or dive into the Mini Platter.
Of course, if you decide to order the titular option, I'm partial to the Banana Nut Waffle - though who are we kidding... you can't go wrong.
This State College institution has locations on West College Ave and North Atherton - and whichever one you choose, make sure to get there early, since plenty of Nittany Lions fans will be heading there before their own game days get underway.
From the fans: "One of my must-haves on any visit back to State College. The line is always long, but the wait is surprisingly short. Get the home fries - you wont be disappointed. The coffee is excellent, and the service is always great. If you eat at one place in State College, let this be the place. Your only regret will be that you can't eat there regularly."


1229 S Atherton St ♦ (814) 234-9000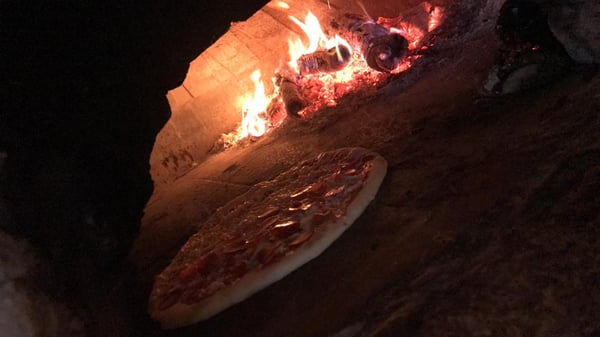 Photo credit: Faccia Luna website
For those who crave a little pizza in their lives (or delicious sandwiches or pastas), look no further than Faccia Luna - whose delicious, smokey-crusted creations fueled by wood-fired flame have been thrilling State College visitors and locals alike for decades.
A selection of both red and white sauced pizzas topped with an array of toppings make each of their specialty pies worth the trip in their own right - though we're partial to to the Via Toscana (caramelized onion, prosciutto, smoked gouda), as well as the classic Formaggio.
From the fans: "Really nice place. Great service. Had the wood fired pizza...was the best pizza I have ever had. We will be back next time we are in town."


206 W College Ave ♦ (814) 862-9111
Ramen may not be your "traditional" game day cuisine - but one trip to this State College gem should change all that.
Begin by choosing from any one of three broths - pork, chicken, or vegetable - then select from any one of their delectable mixtures, many of which feature a BBQ pork that is absolutely to die for.
But it's not all ramen on the menu - they also have an amazing array of sushi, sashimi and nagiri - as well as some hot appetizers that you won't want to fill up on... but you may have a hard time resisting.
From the fans: "I love the ramen here. Even the other items are great, I recently got the chashu don (BBQ pork over rice) and it was amazing. Could not recommend more. In such a short time Tadashi has established itself as one of State College's best restaurants."


113 E Main St ♦ (814) 466-6241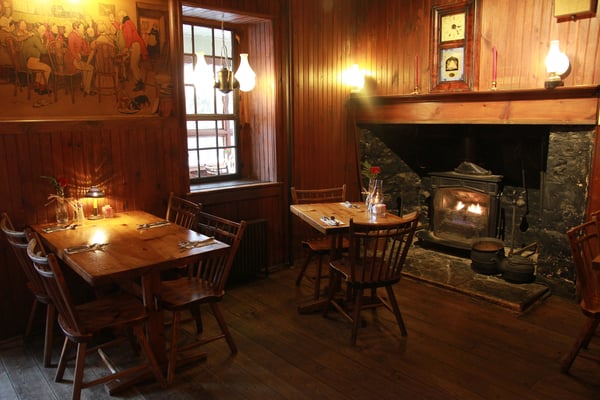 Photo credit: Duffy's Tavern website
If our list gave out accolades for "longest running restaurant" this would win it by a mile - as Duffy's predates even the founding of Penn State itself, going all the way back to 1819, when it first opened its doors in Boalsburg.
But even after all this time, it hasn't let its age show, still serving up an absolutely delicious seasonal menu for those who crave more complexity (see their venison medallions served with a red wine demi-glace), as well as some of the most delicious sandwiches, burgers, and pub-grub in town.
From the fans: "Duffy's Tavern is a wonderful historic restaurant in downtown Boalsburg, PA. The food is always great, they serve anything from full dinners to delicious sandwiches. The place is beautifully furnished with antiques that match the flavor of the Building, which give it a very romantic atmosphere. I strongly recommend making a reservation before you visit."


137 Elmwood St ♦ (814) 234-4406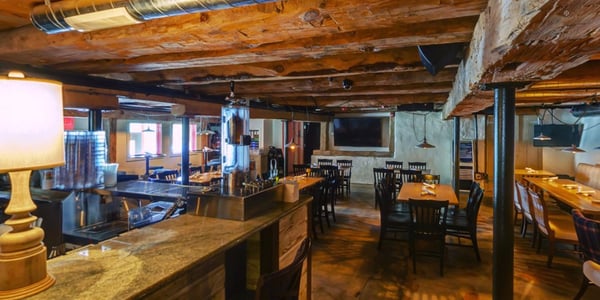 Photo credit: Happy Valley Brewing Company website
Tired: the average, generic, game day beer.
Wired: Happy Valley Brewing Company's selection of beers, wine, liquor - and an absolutely sensational menu of food sure to delight everyone in your group.
With specialties that range from a quirky reuben topped with Italian mortadella, Notre Dame brie and Persian cucumbers, to a perfectly cooked NY strip - along with new takes on pub classics like their Barnyard Burger (an 8 oz steak burger topped with grilled onions and BBQ mayo on Texas toast), this microbrewery stands out above the rest as a must-visit on Penn State game days.
From the fans: "Absolutely incredible food! Elaborate takes on classic comfort food. I had a very thick pork chop smothered in a dark, smoky BBQ sauce unlike any other BBQ sauce I have ever had. The mac and cheese was deliciously crusty, the green beans long and crisp. There were 11 of us at the table and we had a wide variety of dishes. Everything was an over the top delicious. Who knew that pickled veggies could be so elegantly delicious!"


217 McAllister Alley ♦ (814) 954-8081
For the best Mexican fare in town, look no further than Yallah Taco - consistently named one of the best restaurants in State College. Don't let its "quick service" vibe fool you - their tacos, burritos, and quesadillas are absolutely delicious, and even if the line is long when you arrive... don't worry, it'll turn over quickly.
For those who choose the burrito option (and are particularly hungry) consider one of their Monster Burritos - all of which are named for their size... and thus the tall task it is to finish them.
From the fans: "Best burritos in town. No competition at all. You wont regret it one bit."


1 Country Club Ln ♦ (814) 234-8000
While a restaurant on a golf course (The Field sits right on Toftrees Resort just northwest of campus) may seem a bit of an unusual choice for game day weekend - this farm-to-table restaurant is the perfect pick if you're in the mood for tailgate grub... but just with a little more elegance to go along with it.
Besides having a robust draft beer, wine, and speciality cocktail menu, The Field was also voted "Best Burger and Fries in State College" in 2018 - with a house-mixed patty made up of sirloin, chuck, brisket, and short rib squeezed between a delicious, buttery bun.
From the fans: "If you like gourmet burgers and handhelds then this place is for you. They have an amazing assortment of fries you can choose from. A fine selection of craft beers on draft from PA brewers is available. Nice atmosphere and great service."


2080 Cato Ave ♦ (814) 861-3463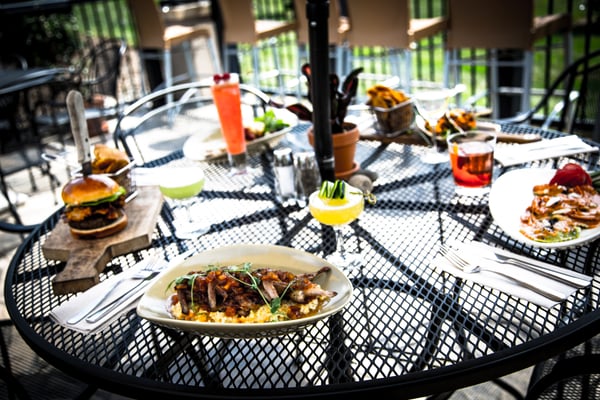 Photo credit: Gigi's Southern Table website
"Locally Grown. Southern Inspired." reads the header on the website of Gigi's, our last restaurant on the list... but certainly anything but the least.
Casual yet sophisticated, bold yet classic, decided Southern yet situated in central Pennsylvania - this State College restaurant is full of complexity and contradiction in the best possible way, delighting guests with dishes that are infused with charm usually reserved for spots South of the Mason Dixon.
Immerse yourself in delicious seafood flown in fresh from the Gulf and East Coast - from their Charleston Twin Crab Cakes to a Southern Shrimp Carbonara. Or, enjoy the "Yard Bird" - a chicken breast topped with roasted garlic velvet sauce. The menu will shift seasonally, but no matter when you come - we guarantee you'll walk away floored by this gem in State College.
From the fans: "One of the best restaurants I have ever had the pleasure of dining at. The service was top notch. The food was out of this world. I loved the beautiful decor, it was such an oddly chasing mix of beach house and hunting cabin. The chairs were so comfortable, it was nice to sit in a soft chair instead of the restaurant standard. Our food arrived faster then we expected and was hot and fresh. I recommend this to anyone visiting the area!"
Ready to "get your grub on" in State College? Don't forget that the best way to stay close to all of these amazing restaurants is by staying in a Rent Like A Champion weekend vacation rental near Penn State!
Check out all of our amazing options now...