At Rent Like A Champion, we believe that every college football weekend is about more than just your experience at the game. That's why this year we're bringing you city guides to the best bars, restaurants, and activities that you can add to your game day itinerary...
For the second year in a row, we bring you our list of the very best restaurants in Oxford, Mississippi - and boy oh boy, are this year's restaurants good.
After all, besides being one of the coolest college towns in America, Oxford, Mississippi boasts an incredible array of outstanding food options, and can go toe-to-toe with any restaurant scene in the country, bar none.
So, which restaurants are our favorites? Here's our 2019 list...


152 Courthouse Square ♦ (662) 232-8080
You can't talk about food in Oxford without beginning with John Currence, the mind behind the City Grocery Restaurant Group, and whose titularly named flagship restaurant has been regarded as perhaps the best restaurant in Oxford. Its interior is a gorgeously rustic exposed brick and soft lighting - and while its white tablecloth is indicative of the finer dining you'll experience there, it remains accessible and exceedingly local.
Inspired by elevated Southern cuisine, this is a bit of a pricier spot than what you might otherwise find around town, but you can bet anyone who's tried the shrimp and grits (which features sautéed shrimp, garlic, mushrooms, scallions, white wine [!!!], and lemon juice) will tell you it's absolutely worth the extra couple of bucks.
From the fans: "The service alone is worthy of 5 stars, but the FOOD... can I give 6 stars? I'm a huge fan of Shrimp and Grits and these were quite possibly the best I've ever had, with just the right amount of savory and heat. I'd have been satisfied with my entree, but, for once, we saved room for dessert. We had the oatmeal creme pie (it came with a small root beer float on the side) and the caramel banana pudding, and we all agreed that the desserts are hands-down the best we've ever had. It is pricey, like some reviewers have pointed out, and I'm happy to take their table because you do get what you pay for, and this was worth it."

719 N Lamar ♦ (662) 334-4530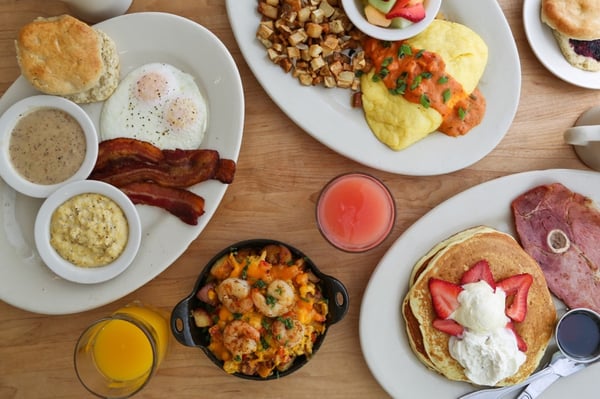 Photo credit: Big Bad Breakfast website
Another John Currence spot, Big Bad Breakfast has a much different feel than that of City Grocery - but with a standard of excellence no less stringent. An addition to the City Grocery Group born out of Currence's "love affair" with breakfast, Oxford locals and travelers alike have likewise fallen for everything from the house-cured Tabasco/Brown Sugar Bacon to crispy southern fried chicken to Original Grit Girl grits to the Anson Mills Steel Cut Oatmeal."
But for the more adventurous, don't sleep on the Fried Oyster Scramble "Hangtown Style", featuring fried Gulf oysters and sliced serrano chilis.
From the fans: "Holy smokes this place is amazing. I'm not a big tomato fan, but their tomato gravy and biscuits are worth the line... 'big bad breakfast' is the best way to stuff yourself silly before 10am. Also, the wait staff was fantastic. Top-notch across the board."


118 Courthouse Square ♦ (662) 232-8880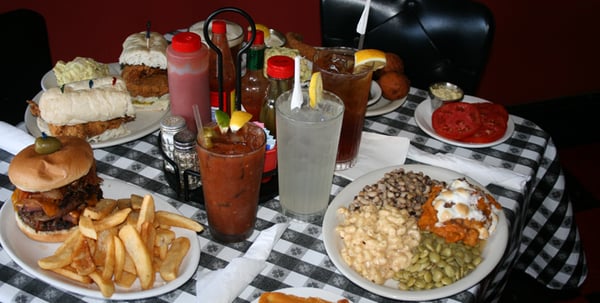 Photo credit: Ajax Diner website
Even with how prolific Currence has been in the Oxford culinary scene - he's far from the only person making delicious food, and if you're looking for a place to start for proof... begin at the iconic Ajax Diner.
An Oxford staple for the last 20 years (and a purported favorite of the Manning football family), Ajax has been service up delicious soul food for lunch and dinner right on the Square.
Named "Best Downtown Soul Food" by Mississippi Magazine three years running, they also tout titles for "Best Cornbread" and "Best Burger" from publications all across the state, making it an absolute must-hit for anyone coming into Oxford on game day weekend. I'm partial to a good po-boy myself, and if you're in the mood for a little andouille... go ahead and treat yourself.
From the fans: "So much to love about this Oxford mainstay. A funky and festive ambiance with an intimate feel. Well-prepared, generously portioned soul food, so make sure to arrive with an appetite. There are so many great side items on the menu that it's sometimes hard to decide. I highly recommend the meatloaf and the Bloody Mary."


53 Co Rd 321 ♦ (662) 234-4555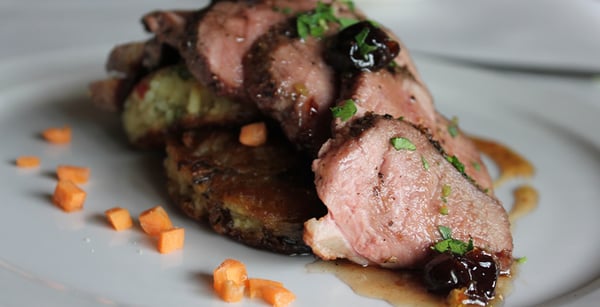 Photo credit: Ravine website
Located a short drive out of downtown is Ravine, a gorgeous log chalet serving up Southern comforts inside a classic ambience that will be an unforgettable experience for your entire group. Open Wednesday through Sunday, Ravine features a rotating menu inspired by locally grown and sourced ingredients - including from its own garden - to create quirky and offbeat takes on Southern classics.
Enjoy Tapas on Wednesdays as well as brunch on Sunday mornings, and if you're staying in town for the entire weekend, consider making a reservation for the restaurant's prix fixe "Family-Supper" meal on Sunday evening.
From the fans: "One of the best meals I have ever eaten. Beyond the delicious food that lingered on the palate, the experience was exceptional. The service was perfectly attentive, with each course well timed and leaving you eagerly anticipating your next bite and the wines well paired with the fresh farm to table dinner. It was also delightful to find a restaurant with true ambiance and one that the owner didn't feel compelled to line corner to corner with televisions. Ravine certainly stands apart in a class by itself."


923 Van Buren Ave ♦ (662) 236-5000
Back closer to town sits Bottletree Bakery, a quaint little shop just off the Square serving up some of the city's best pastries, sandwiches, and desserts for nearly 30 years. With a simple menu of comforts coupled with coffee from one of the best coffee roasters in Portland, Oregon, Bottletree is the perfect place to start your day if you don't have time for a full, sit down breakfast... but still want something absolutely delicious.
Chef's favorites include the ciabatta bread with olive oil, and brioche pastries - but make sure to try "Grandma Turner's Oatmeal" - slow-cooked overnight and served with honey and steamed milk.
From the fans: "When people are lining up before the doors open, you know you've got something special. Amazing pastries including a variety of homemade croissants and bagels. Good coffee, funky vibe and excellent music. A nice place to sit and read a book or meet up with friends."


766 N Lamar Blvd ♦ (662) 638-3393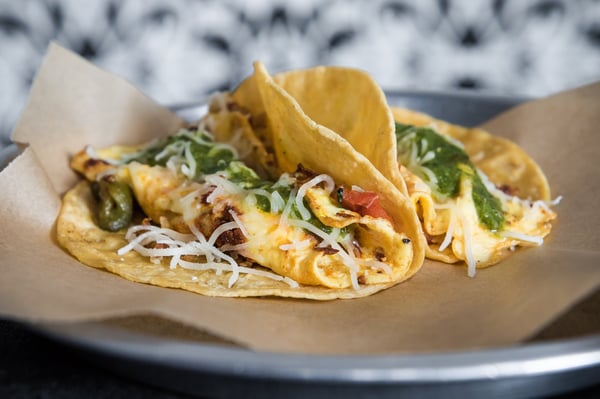 When Chef Corbin Evans started Oxford Canteen in 2014 in the alley behind the Lyric Theater, few would have predicted the wild success that would, eventually, lead Evans and his team into a former "gas station-turned-carwash" just north of the Square. Fewer still would have predicted that accolades like Best Grilled Cheese in Mississippi, or the inclusion in lists of local favorites would have come so quickly.
Yet lo and behold, here we are.
Stop in and experience this instantly classic restaurant for yourself - and make sure to get there early to get a taste of their famous breakfast tacos, self-proclaimed the "best in Oxford." Plus, in addition to serving Oxford's favorite fast casual food, they're a great place to have a drink on the outdoor patio, as well!
From the fans: "Great local place with a nice patio. It is an excellent lunch restaurant. They have a good menu with some very creative [and] an excellent brisket sandwich - one of their signature items. The brisket is incredibly tender and moist... Overall this is a great place, in a cool venue (converted gas station), ideal for a quick bite with friends."


721 N Lamar Blvd ♦ (662) 236-6363
While this is also a John Currence creation... there's a little more to this unique Oxford restaurant, headed by acclaimed James Beard Award-Finalist executive chef, Vishwesh Bhatt. Bhatt has created one of the most unique menus you'll find not just in Oxford, but anywhere in the country - blending French food with, of course, Southern flare, but with a South Asian influence that takes each dish to soaring new heights.
The Roasted Duck Leg currently on the menu seems to embody this perfectly - as it features a penang-style spice and green beans cooked in coconut milk - in addition to a Red Shrimp Mac and Cheese in a mornay sauce.
You'll also find fresh oysters, as well as top-flight drink and happy hour menus - so there's no bad time to hit Snackbar on game day weekend.
From the fans: "Best restaurant in Oxford and one of the best in the country. Interesting spins on southern US cuisine with an Indian twist. Way beyond your typical shrimp and grits. The menu changes seasonally so I'm always excited to go when the new menu comes out. Great service as well. Ample parking."


Saint Leo
1101 E Jackson Ave ♦ (662) 380-5141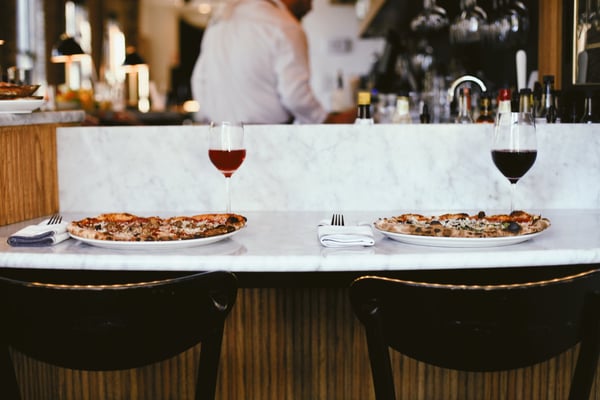 Photo credit: Saint Leo website
Here's a fun fact: Oxford, though clearly famous for its Southern fare, appears to be a pizza town. According to HottyToddy.com, the last census showed that there were a whopping 7.17 pizza restaurants per 10,000 residents.
But while you'll have plenty of options for pizza in Oxford, if you're really craving a great pizza - make it Saint Leo.
A 2017 James Beard "Best New Restaurant" finalist - Saint Leo is the brainchild of Emily Blount, whose menu features perfectly wood-fired pizza along with simple and delicious Italian food. The menu changes "in tune with the seasons" - but you can always depend on fresh, local ingredients to take your pizza to the next level.
From the fans: "Absolutely the best pizza I've ever eaten in my 66 years on Earth of eating pizza.. all I remember about it is is that it had pork belly in it and pepperoni.. you would do well to try it."
Ready to get your grub on in Oxford?
With over 100 weekend home rentals near Ole Miss available for the 2019 season, you'll be able to experience all of our favorites... and even discover a few of your own!
Click below to begin searching for your Oxford getaway now...
Did we miss anything? Let us know! Email info@rentlikeachampion.com