At Rent Like A Champion, we believe that every college football weekend is about more than just your experience at the game. That's why this year we're bringing you city guides to the best bars, restaurants, and activities that you can add to your game day itinerary...
Ann Arbor, Michigan - home to the University of Michigan, and one of the very best college towns in the country.
And like any great college town, it's steeped in both tradition... as well as some absolutely fantastic food for students, locals, and, of course, travelers coming in to experience one of college football's most incredible game day experiences.
But with plenty of options to choose from, you'd be forgiven for not being sure exactly which option to choose. So to help make your weekend in Ann Arbor even better, here are a few of our favorite places to grab a bite on game day...
422 Detroit St ♦ (734) 663-3354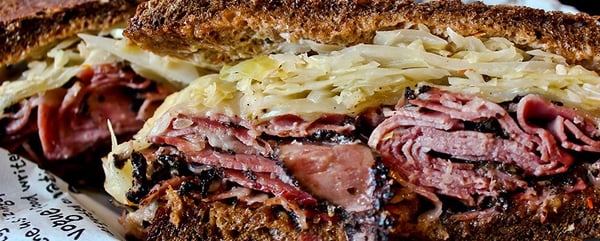 Photo credit: Zingerman's Deli website
Our list kicks off with Zingerman's - an Ann Arbor staple since 1982... and home to perhaps the best sandwich you'll find anywhere in the city. Whether you're diving into their world-famous corned beef and pastrami, going a bit lighter with turkey, or prefer a vegetarian option - you can't go wrong at this local icon.
But it's not all just sandwiches here at Zingerman's - they also serve up phenomenal, traditional Jewish sides including latkes and noodle kugel, as well as a terrific breakfast to help you fuel up for game day.
From the fans: "Amazing food, but an even more amazing experience. The staff was so incredibly good, it was a pleasure just watching them work! Definitely a 'must stop' when visiting Ann Arbor!"


1771 Plymouth Rd ♦ (734) 719-0085
"Authentic. Bold. Korean." says the tagline of this amazing Ann Arbor spot - which serves up the self-proclaimed best fried chicken in Ann Arbor. And, truthfully, it's a tough title to argue with...
Choose from an order of wings, boneless strips, drums, and thighs - along with either hot and spicy or soy garlic sauce - all served with either corn salad or pickled radish. But if you're not in the mood for chicken you'll find delicious bibimbop, kimchee friends, mandoo (Korean dumplings), and an array of side dishes to ensure everyone in your group finds something they love.
From the fans: "Best fried chicken in the area if not ever. We do an office order every now and then but we make sure to put the order in day or more in advance. Do not rush these guys, perfection takes time. Kimchi fries are amazing as well!"


341 E Liberty St ♦ (734) 769-6700
When Food and Wine gave Mani Osteria the top spot in its 2015 list of "Best Pizza in Unexpected Places" - it came as a bit of a shock to the uninitiated, both in Ann Arbor and beyond. But when it returned to the top spot in the updated 2017 list... the secret was already out.
Step inside and enjoy not only award-winning wood-oven pizza, but also deliciously hand-crafted pastas, phenomenal cocktails, and a warm, welcoming atmosphere perfect for getting dinner the end of game day.
From the fans: "Love the specialty pizzas, salads and appetizers! We had about eight in our party and our server made excellent recommendations. Pizza and other dishes made in brick ovens which you can see from tables. Great atmosphere, a bit loud, but not intolerable. Highly recommend!"


1100 Catherine St ♦ (734) 761-8996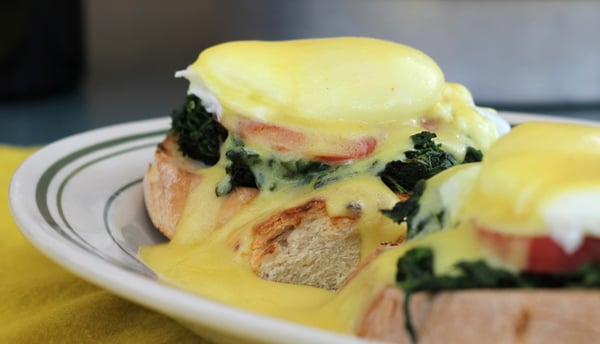 Photo credit: Angelo's website
From a classic dinner spot to one of Ann Arbor's iconic breakfast joints - family-owned Angelo's is the place to be if you're looking to start your day off right.
Dating all the way back to 1956, you'll find a robust menu of breakfast favorites - including multiple eggs Benedict dishes (including a smoked salmon), omelettes, and even a more off-beat option in a deep fried French toast (don't you worry, it's absolutely delicious).
It gets busy on game day, but ask anyone... this place is worth the wait.
From the fans: "This was my go-to spot for breakfast in college. Fast forward 15 years and I had some time to kill and an empty stomach so I popped in for old time's sake. Service was friendly and down to earth, coffee was never empty and MY GAWD that deep friend french toast hit the spot. If you're in the area, highly recommended!"


314 E Liberty St ♦ (734) 995-5060
Tucked away on Liberty Street is perhaps Ann Arbor's best stop for truly fantastic Middle Eastern cuisine: Jerusalem Garden. Founded in 1982, it claims to have served over 125,000 customers... and you'd do well to make sure you get added to their numbers next time you're in town.
The menu has sensational variety - with absolutely delicious schwarma and kabob sandwiches, along with shared plates that will give you a little taste of everything... including some of the best hummus you'll find anywhere. But just make sure to save room for dessert, because the baklava and rice pupping are both worth the price of admission on their own.
From the fans: "Definitely a must go. This family operated business has tremendous food for lunch and dinner. I am partial to the chicken fattoush salad; however, the chicken shawarma sandwich with an added falafel was a staple of my diet for years. After a fine meal, digesting with a Turkish coffee and baklava is always a good choice."


600 E Liberty St ♦ (734) 887-6899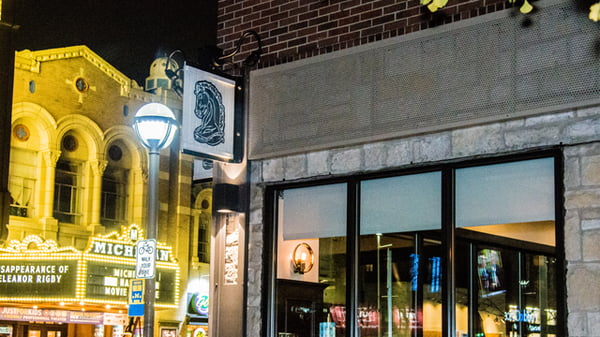 Photo credit: Knight's Steakhouse
Moving on to the restaurant that goes back the farthest - Knight's Steakhouse began as a market and deli in 1952, and has become one of Ann Arbor's most treasured culinary traditions.
With two locations - one on East Liberty and one on Dexter Avenue - Knight's is an old school kind of spot, with some traditional American fare like delicious burgers and deli sandwiches, along with your classic cuts of steak and a slow-roasted prime rib you'll go bananas for.
From the fans: "Great service and great meals. 14 of us enjoyed our time together and we were able to order from a large menu with a large variety of options. I was astonished to see the food was prepared so quickly! I will be back for the large filet mignon again... and again."


311 S Main St ♦ (734) 913-2730
With a huge selection of locally-made beers on tap from Jolly Pumpkin Artisan Ales, this Ann Arbor haunt could very well have made our "best bars in Ann Arbor" list - but Jolly Pumpkin's food menu makes it so much more than that... and "best bar" alone just wouldn't do it justice.
With a diverse menu of offbeat takes on classic pub fare (the "Not Just A BLT" - featuring verde salsa - is a prime example), Jolly Pumpkin's fantastic food is an amazing complement to its already sterling reputation as a brewery.
And when you do decide to imbibe, any one of their phenomenal beers will do the trick - though my personal favorite remains the Obscure Black Rye IPA.
From the fans: "One of my favorite pubs for both food and beer. Note, many of their beers are sour beers. Though they do have a bunch of standard beers from North Peak Brewing. The menu has a good selection of appetizers, sandwiches, pizza, and other stuff. About a third of the items are vegetarian. Their truffle fries are excellent."


207 E Washington St ♦ (734) 222-4095
Whoever said you couldn't get great BBQ north of the Mason-Dixon clearly has never been to Blue Tractor, which not only serves up phenomenal, craft beer brewed in-house, but also some of the best smoked meat you'll find not just in Ann Arbor... but anywhere in the country.
Featuring traditional BBQ dishes like baby back ribs, pulled pork, and sliced brisket - all smoked on Michigan cherrywood - you can pair any of their delicious food with crisp, award-winning beers. Personal favorite here includes the Pitmaster Porter, but believe us when we say... they're all fantastic.
From the fans: "A must! Sampled some of the beers on tap, was quite impressed with both the quality and variety. Really enjoyed the milkshake IPA and the Porter, and the Amber ale was super tasty. The food was just as good as the beer. The BBQ platter was a great choice to try a variety of options. Don't miss the corn muffins or the house made sauces! If you've got room, the cobbler was fantastic."
And don't forget! The best way to stay close to all of these amazing Ann Arbor dining spots is with a weekend home rental near Michigan Stadium.
Skip the expensive hotels miles away from campus - and check out all of our homes near the University of Michigan now...