Rent Like A Champion may have gotten its start hosting college football fans, but it turns out that gridiron travelers aren't the only ones staying close to their event location.
Over the past few years, RLAC has been rapidly expanding, working with PGA tournaments to provide lodging for fans, agents, event VIPs, and even professional golfers during some of the year's most exciting PGA tournaments.
To date, our team has hosted dozens of pro golfers at a myriad of tournaments across the country, and will serve as an accommodations provider for the Ryder Cup at Whistling Straits in 2020!
This May, we'll be working alongside PGA Championship organizers to find lodging around TPC Harding Park for contestants, staff, and corporate sponsors - and we're actively looking for hosts in the San Francisco area who live within five miles of the course, and who might be interested in listing their homes for the event.

But before we get there, here's a bit more about why Rent Like A Champion has been such a fantastic option for pro golfers traveling in for tournaments nationwide, and how hosts have begun to cash in...


The Rent Like A Champion Difference
"Working with Rent Like a Champion was a very easy process," says PGA golfer Marc Leishman. "We had a great selection of homes to choose from and we loved the home we stayed in. The owners of the home exceeded expectations and we were able to focus on the tournament without any worry. I would highly recommend working with Rent Like a Champion."


LEARN MORE: INTERESTED IN HOSTING FOR THE PGA CHAMPIONSHIP? RSVP FOR OUR FREE INFORMATIONAL EVENT IN SAN FRANCISCO ON FEBRUARY 5!

Why the sudden shift to private home rentals for these PGA pros? Because we offer them the same service and amenities that more than 80,000 fans have experienced since Rent Like A Champion launched...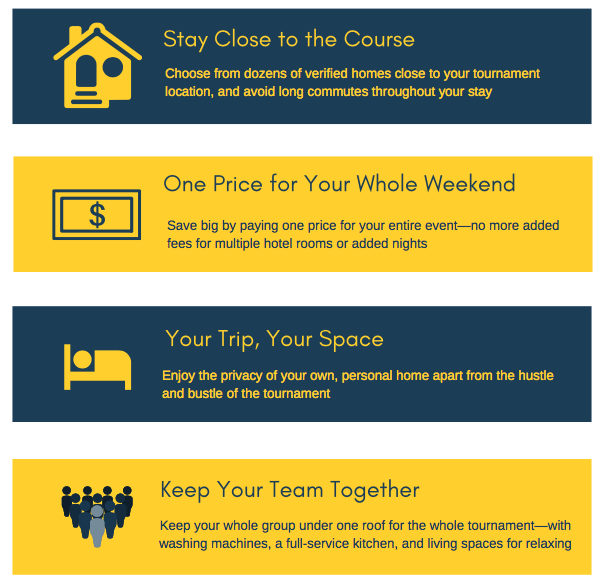 How Hosts Are Cashing In...
And with the sudden influx of PGA golfers looking for private home rentals, hosts near these courses have seen the results - earning an average of $8,000 per weekend for each golf rental with Rent Like A Champion.
And even with an industry low incident rate of <1%, Rent Like A Champion makes sure every host feels comfortable by guaranteeing a $1M insurance policy - so those who list can rest easy knowing that if anything should happen, they're covered.

As for worrying about whether or not their home is ready for professional golfers?
"Rent Like A Champion works with you and makes sure you feel comfortable and educated on how to present your home to the customer /guest," says Val, a RLAC host in Athens, GA. "This allows their visit to be comfortable and [makes] their stay a very pleasant one with the utmost hospitality and cleanliness."
It's the perfect win-win: for golfers, it's the chance to stay close to the course in the privacy of their own, quiet rental home, while for host it's a great way to earn extra money and know that their home will be taken care of.
Plus, you'll get to host a PGA pro in your home... which we think is pretty cool.


Want to Host Contestants for the PGA Championship?
We're hosting a FREE event on February 5, 2020 at TPC Harding Park to tell you more about the Rent Like A Champion story and process! Click below to learn more and RSVP now...
Are you a golfer, agent, or fan looking to stay close during your next trip to the tournament? Click here to learn more.
Featured photo courtesy of Golfible without any changes to the initial work. Golfible does not endorse nor is in any way affiliated with Rent Like A Champion.