At Rent Like A Champion, we believe that every college football weekend is about more than just your experience at the game. That's why this year we're bringing you city guides to the best bars, restaurants, and activities that you can add to your game day itinerary...
While Auburn, Alabama is a top notch college down - and a game day destination for fans throughout not only the SEC, but the country... there's much more to it than that.
Auburn itself is a bustling city with tons to offer both visitors and locals, and like any great Southern city... it all begins with some absolutely incredible food that you want to miss out on next time you're in town.
So, what are the restaurants you have to hit on game day weekends?
Here are a few of our favorites...
201 N College St ♦ (334) 521-5101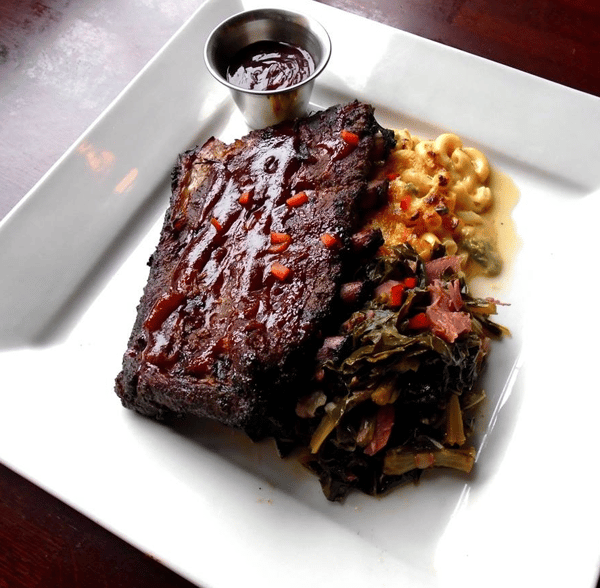 Photo credit: LiveOaks website
We'll talk about LiveOaks in our 2019 Best Bars in Auburn list, as well (coming soon!) - but make no mistake, it's the food that shines at this phenomenal hot spot located just north of campus and a short distance from Jordan-Hare.
Executive Chef Joseph Thompson III has created an eclectic menu of dishes that showcase both the very best of Southern cuisine (see their Cajun Stuffed Bone-In Pork Chop for proof), as well as the range that this chef has when it comes to delivering outstanding culinary experiences.
Plus, make sure to grab a drink on the back patio in one of the more picturesque downtown locations in all of Auburn - you won't be disappointed!
From the fans: "Great food and atmosphere! Would highly recommend this restaurant to anyone who is visiting Auburn! Love the outside dining and bar area!"
210 E Glenn Ave ♦ (334) 521-5101
Within the Auburn culinary scene, few restaurants are as well-regarded as Acre - Chef David Bancroft's brainchild that's redefining Southern cuisine, and was named Alabama's best restaurant in 2018 by Southern Living.
Step into this salvaged, 100-year-old converted general store and experience a seasonal menu celebrating Auburn's past and present through locally sourced meats and ingredients, as well as looking towards the future with dynamic dishes and breath-taking presentation.
From the fans: "An absolutely amazing experience. Acre is my FAVORITE restaurant in Auburn and it never disappoints. I love that all of the food is locally grown- and you can tell in the quality. I highly recommend the corn nuggets and the chocolate chip cookie cake. I recommend this place to everyone who wants an exceptional and nice meal."


129 E Magnolia Ave ♦ (334) 821-6161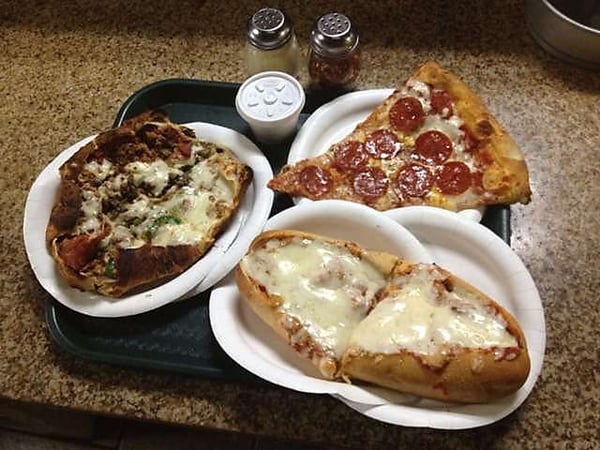 Photo credit: Little Italy website
I don't know about you, but sometimes there's nothing more comforting than an old school pizza place, and Little Italy - located just across the street from Toomer's Oaks - delivers all that and then some.
Whether you're stopping in for a NY slice, one of their fantastic speciality pies, a calzone, or are in the mood for a hot sandwich or sub, you really can't go wrong with this classic neighborhood spot.
From the fans: "Best pizza in Auburn! They stay busy, especially during the school year when the Auburn students are in town. Their service seems to get better the busier they get."


2328 S College St #6 ♦ (334) 821-4142
If a neighborhood place is what you're looking for, though, it doesn't get much better than Pannie-George's Kitchen - featuring a rotating array of meat and vegetable options to keep things fresh for both regulars, and those visiting for the first time.
The lone exception, however, is the fried chicken - which is always on the menu and is considered to be among the best you'll try anywhere. Don't believe us? Then make sure to try this Auburn staple for yourself and find out...
From the fans: "For the price, this is the best food in Auburn. And better than most of the fancy, expensive places too. Eating there actually makes me happy, even on days when they don't have mac and cheese. When the chicken is fresh out of the fryer, I don't think you can find better. If you're in Auburn, do yourself a favor and go here for lunch. I would recommend going a little early or a little late as the line can wrap all the way around the restaurant. But it's worth it."


436 Opelika Rd ♦ (334) 887-9981
Of course, you can't go too far down South without finding a BBQ joint that will absolutely blow your mind, and in Auburn, that place is Byron's Smokehouse - located just northeast of the main downtown area on Highway 14.
Featuring a simple but delicious menu of old favorites and BBQ standbys, Byron's will please anyone in your group looking for ribs, pork, or classic sides - and also boasts a fantastic breakfast menu if you're looking for a quick stop before the game.
From the fans: "The chipped pulled pork is great. Their sides are better and that really is saying a lot. The fried potatoes are good, no surprise, but the cornbread is off the charts good... easily one of the best restaurants in Auburn."


100 N. College Street ♦ (334) 887-3488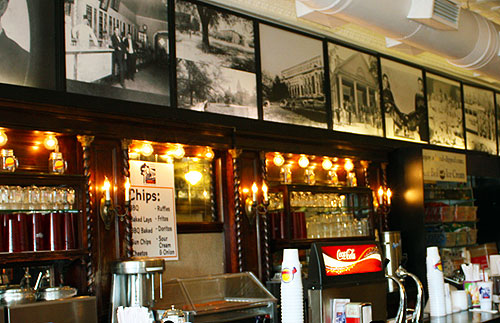 Photo credit: Toomer's Drugs website
Of all the restaurants on this list, perhaps no place is more iconic and storied than Toomer's Drugstore, the namesake for the famed oak trees that sit outside its walls on Toomer's Corner.
It's become a bit of a tourist destination, but this is still a place worth seeing - especially for first timers. And while it's not a sprawling menu - the lemonade, milk shakes and sandwiches continue to be the centerpiece here - what they do, they do as well as anybody.
From the fans: "If you are in Auburn then you must visit here and get some delicious lemonade! Absolutely the best I've had. I don't go to Auburn without stopping in. It is worth the line. The folks are super friendly and very efficient at dealing with the crowd."


120 North College Street ♦ (334) 501-2245
Located just up the street from Toomer's is a place that is quickly becoming one of the must-see stops on the Auburn culinary tour: Blue Bagel Deli. Founded in 2000 by Jon Deason, Blue Bagel has been serving up food so delicious that their dishes have been featured among the 100 Dishes to Eat in Alabama Before You Die by the Alabama Tourism Bureau.
You really can't go wrong with anything you have here, but we suggest the Bagel Chips (the dish that made the list mentioned above), as well as the Tiger Melt - a chicken salad sandwich with Colby cheese that's the perfect treat before heading to game day.
From the fans: "Absolutely love this place! Plenty of room for groups and they have a good selection of bagel and non bagel sandwiches, pretty much anything you're in the mood for! Their fresh fruit side is actually fresh and has a really good selection which I really appreciate."


1151 Opelika Rd. ♦ (334) 821-3118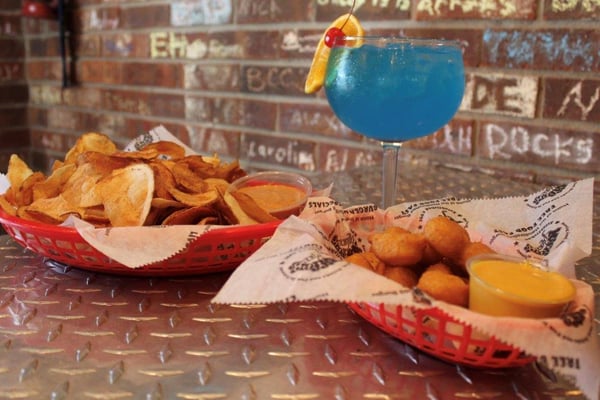 Photo credit: Niffer's Place website
Rounding out our list is Niffer's Place - an absolutely charming spot located a bit out of town on Highway 14... but trust us, this place is absolutely worth it.
With a huge menu featuring a wide variety of dishes - from outstanding hamburgers, to delicious sandwiches, to even a chicken burrito to die for - there'll be something for everyone at Niffer's.
But as good as their food is (and trust us, it's great), the true star of Niffer's is the atmosphere - from the fun decor to the exceedingly friendly staff, all of whom decorate and hang "fish" that they've crafted from the ceilings to immortalize their contribution. It's a true family atmosphere, and you'll feel it as soon as you walk in.
From the fans: "One of the best small town restaurants I have ever eaten at. Food was great, server was awesome and even though there were really busy server never missed a beat. There was so much good food to choose from it made it hard to decide. Very trendy college atmosphere and fun."
Ready to "get your grub on" in Auburn? Don't forget that the best way to stay close to all of these amazing restaurants is by renting weekend homes in Auburn for football games!
Check out all of our amazing options on "The Plains" now...