At Rent Like A Champion, we believe that every college football weekend is about more than just your experience at the game. That's why this year we're bringing you city guides to the best bars, restaurants, and activities that you can add to your game day itinerary...
Football weekends in South Bend are among the proudest traditions in college football, with fans from all over the country descending upon Notre Dame Stadium to cheer on the Fighting Irish.
But any great football weekend in South Bend isn't just about the game - it's also about hitting the town and exploring all the amazing bars and restaurants South Bend has to offer. We covered the Best Restaurants in South Bend, IN last week, but now... we're delivering some of our favorite places to grab a drink during your college football getaway.
From the more college-style bars to South Bend's nicest tap houses, this blog has options for every group on game day...
233 S. Main St. ♦ (574) 404-6100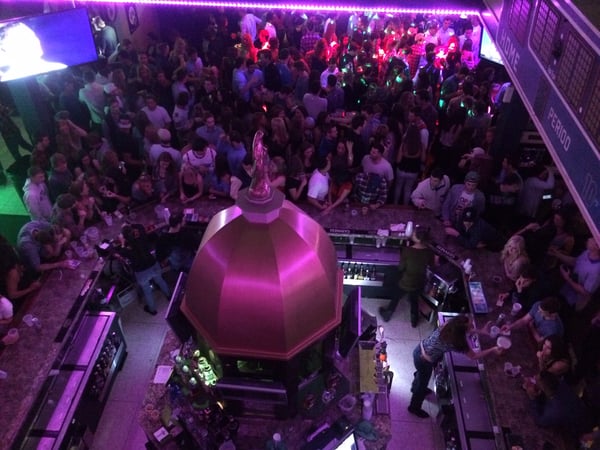 Photo credit: Finnies Next Door
Featuring a Golden Dome with its own Mary statue, a large upstairs and downstairs space and great music, Newfs is a great way to celebrate after a Fighting Irish win. While it can be crowded on weekends, the great music and club-like atmosphere is worth the wait on drinks.
They proudly boast one of the cleanest and friendliest bars in the area - with one of a kind decor items including not just that Golden Dome we already mentioned, but also murals hand-painted by former Notre Dame student, Jackson Wrede.
Newfs doesn't offer food and is mostly packed with college kids any day of the week. It's probably not a place to bring your family, but you are sure to have a lot of fun with friends right in downtown South Bend.
FROM THE FANS: "I've had a few fun experiences here during Notre Dame football weekends. The prices are pretty good and I like the upstairs space."


1631 S Bend Ave ♦ (574) 289-0186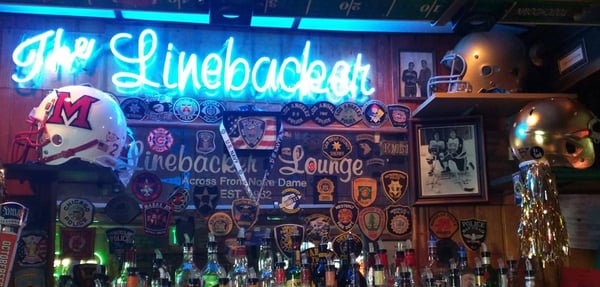 Photo credit: The Linebacker Lounge's Facebook page
Conveniently located just a few blocks off campus, "The Backer" is a quintessential college bar and staple of South Bend. It features nightly drink specials, an old school vibe, and a great covered outdoor patio space. On game weekends, the crowd tends to be a little older - so don't feel like you'll be bumping shoulders with undergrads. Definitely one of the best places on game days, the Linebacker is an ND tradition and a short walk from tailgates.
They have great bar food, and are known for their BLT. This watering hole is a must-see if you're in town for your first Notre Dame game.
FROM THE FANS: "Iconic Notre Dame bar. Come for the beer stay for the experience!"
236 S Michigan St ♦ (574) 233-5981
CJ's is not only a great bar to hangout at, but also offers one of - if not THE best burger in South Bend.
Their menu lists over 20 different burgers, complemented perfectly by cold draft beers, creative cocktails, and much more! Stop by for a burger and stay for the night; they'll remove the tables from the center of the restaurant and turn it into a fun dance floor.
Excellent beer choices and an excellent location in the heart of South Bend, CJ's has a great club scene, sports bar and place to go with friends and family for a casual atmosphere and a good time.
FROM THE FANS: "Friendly staff, decent beer selection, and good bar food. Tons of burgers to choose from if you like burgers. A good go-to for a beer and quick bite after work."


113 E. Wayne St ♦ (319) 358-9206
Finni's (not to be confused with Finnies, the first bar on our list) is a pillar of Notre Dame nightlife. Located just a little outside the downtown area, it is a spacious bar with great drinks, a festive dance floor, and a massive wall projector to catch all the college football action!
They always have sports on, and their wait staff provide excellent (and fast) service - what more could you want? It can get crowded on weekend nights - especially home game weekends - but that only adds to the experience.
FROM THE FANS: "The best bar in South Bend. All of the staff is friendly, and they always remember the regulars, even years later."


127 N. Main St. ♦ (574) 232-2853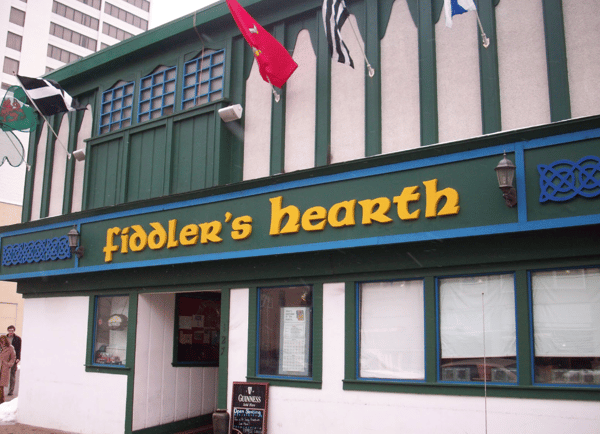 Photo credit: Fiddler's Hearth website
For a more low-key good time in South Bend, step inside the warm and cozy confines of Fiddler's Hearth, located in the heart of downtown South Bend.
Featuring an amazing fish fry, shared plates, and a Guinness-certified "Gold Standard Pint" - Fiddler's Hearth is the perfect place to kick back, relax, and enjoy an evening with your group.
Stop in for nightly live music, or just hang out in one of the many comfortable seating areas. Fiddler's Hearth prides itself on "making every guest feel right at home" - so let them treat you to a fantastic evening!
FROM THE FANS: "As far as authentically Irish pubs go, Fidler's Hearth is my absolute favorite. It's comfortable, and is perfect for a more adult bar outing in town."

1234 N Eddy St ♦ (574) 287-2767
Right on Eddy Street, Brothers is a good sports bar with plenty of seating and good food. Great for big groups, so make sure to grab all of your friends and head on over! With plenty of TVs, it's great for a casual game watch, but its fantastic atmosphere also makes it a great hang for non-game days, as well.
If you are looking for a new, well-kept and nice place to go, Brothers is definitely the place for your group!
FROM THE FANS: "We had a hockey tournament and our large group easily fit in an area all together in the front of the restaurant. boys had pool table and shuffleboard game to play while waiting for food, and shops along same sidewalk."
1044 E Angela Blvd ♦ (574) 251-0355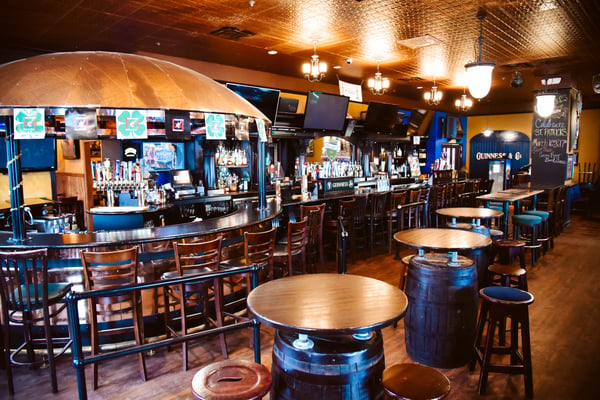 Photo credit: O'Rourke's Public House
With more of an emphasis on food, especially during the day, O'Rourke's is a great place to bring your family and friends after an afternoon game for a post-game meal. At night, O'Rourke's turns into a great bar with trivia on Mondays, karaoke on Tuesdays, and fast, attentive service all week long.
O'Rourke's prides itself in being an authentic Irish Pub with a welcoming atmosphere to match. They hold themselves to high standards, stating that they "consistently provide our customers with impeccable service by demonstrating warmth, graciousness, and efficient, personalized service." They're also hosts for the Notre Dame Radio Shows, and have the absolute best fish and chips in town (don't believe us? Try them for yourself!).
Family friendly and located right on Eddy Street, O'Rourke's Public House is sure to provide you with great food, drink and a great experience.
FROM THE FANS: "O'Rourke's is just an overall great place. From the burgers to the Scotch Eggs, everyone I dined with loved their meals."
112 W Jefferson Blvd ♦ (574) 310-8999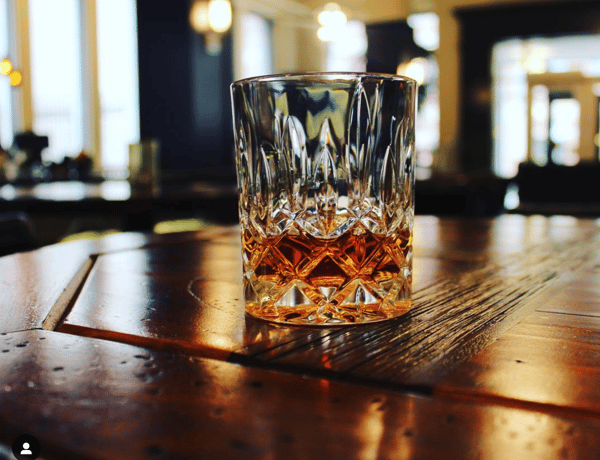 Photo credit: Exchange Whiskey
Definitely on the higher-end of the spectrum, the Exchange Whiskey Bar is a hidden craft cocktail and whiskey bar offering over 300 of the country's best whiskeys. The bar was built inside a historic, Victorian Style bank with its own vault-room that can be rented out for events of up to 200 people.
It may not feel like your classic "game day" bar, but sometimes a nice glass of whiskey is exactly what is called for after a long weekend with family and friends - and no one in town serves that up better than Exchange Whiskey. Also great for an after dinner cocktail, pre-dinner drinks or some gourmet appetizers!
Come visit and sit in their various sitting rooms with warm, cozy lighting and comfortable chairs!
FROM THE FANS: "Absolutely gorgeous room with a SIX PAGE whiskey list and a very knowledgeable staff. Also good selections of other spirits and great hand crafted cocktails. Food choices are very limited. Not a party bar but very much a grown up atmosphere where you can stop for a drink and conversation."
Did we miss anything? Let us know! Email info@rentlikeachampion.com