At Rent Like A Champion, we believe that every college football weekend is about more than just your experience at the game. That's why this year we're bringing you city guides to the best bars, restaurants, and activities that you can add to your game day itinerary...
Over the past few years, there's been plenty of change and progress happening in South Bend, Indiana. But the city itself isn't the only thing that is growing! Phenomenal restaurants of all varieties have been popping up everywhere - and next time you're in town, you'd do well to take notice.
Whether you're grabbing a quick bite on Eddy Street, stopping by a brewery in Mishawaka, or taking in the fine dining in downtown South Bend... Notre Dame's culinary scene has a little something for everyone.
So before you pack your bags and get on your way to visit the Fighting Irish of Notre Dame, make sure to build in time for some of these great options...
3707 N. Main St. ♦ (574) 855-3070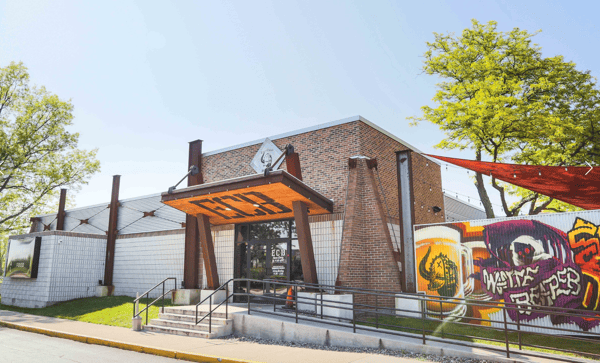 The Evil Czech is a staple of Mishawaka cuisine and a go-to for Notre Dame students looking for a quality meal outside of campus. Their dinner menu features sizzling loaded mac n' cheeses, jaw-dropping burgers, flavor packed tacos, and much more.
Drink-wise, they feature more than 15 craft beers and funky cocktails. They also offer a renowned "hangover brunch" on Sunday mornings, where kids 5 or younger eat free!
If you're looking for a casual spot to grab a beer, a great meal, and catch up with family or friends, look no further than the Evil Czech.
FROM THE FANS: "We live right across the street form this restaurant and love to visit when we have friends come to town! Their food is exceptional, and the atmosphere is a lot of fun."


537 N. St. Louis Blvd. ♦ (574) 233-2464
Rocco's Pizza is an iconic eatery in South Bend. Conveniently located only minutes from campus, Rocco's has been a staple in South Bend with amazing pizza for over 60 years. They pride in calling themselves "comfort food, Italian style." While I can't say the pizza reminds me of a fresh Neapolitan, Roccos does have its' own style and taste that is unique and truly the best pizza in South Bend.
And let's be honest, after a long day of tailgating and drinking, pizza is a need, not a want. Roccos is here to help! Their XLrg pizza is 17", perfect for big parties to either eat at the restaurant, take back to their home rental - they even deliver! Plus, if someone in your group wants something other than pizza, they also offers pasta, salads, soups and sandwiches.
Unfortunately, Rocco's gets absolutely packed on game weekends and they don't take reservations. But don't let the wait deter you. It's a great atmosphere for large groups, kids, and adults alike, so stop by Rocco's your next time in town—just make sure to get there early and plan for a wait!
FROM THE FANS:"I have been half way around the world and this is the best place to get pizza that I have ever been. I have been going to Rocco's for over 20 years and it's still the best."


Crooked Ewe
1047 Lincoln Way E. ♦ (574) 217-0881
The Crooked Ewe is a gastro-brewery located right on St. Joseph river with views almost as amazing as its menu, which has tasty options for everyone with its "Omnivore, Vegan, and Sunday Brunch" offerings. They have also become family friendly, offering all-ages seating upstairs, while the downstairs area is reserved for 21 and over.
With a clean industrial-modern design, the Crooked Ewe is a great spot to go grab a burger with friends or family, but there might be a little bit of a wait. However, the restaurant has a large upstairs waiting room where they serve you alcoholic/non-alcoholic drinks!
Speaking of burgers, the Crooked Ewe takes its food and drinks very seriously. They have their own smokehouse right next door, and a brewery inside the restaurant, where their beer menu is constantly being updated - they'll even give you a sneak peak at beers being brewed in the fermenter as well as Future Cask Ales coming soon!
FROM THE FANS: "Sitting at the bar, the view is amazing, looking out at the river/water with the snow falling is serene."


1234 N. Eddy Street ♦ (574) 990-9110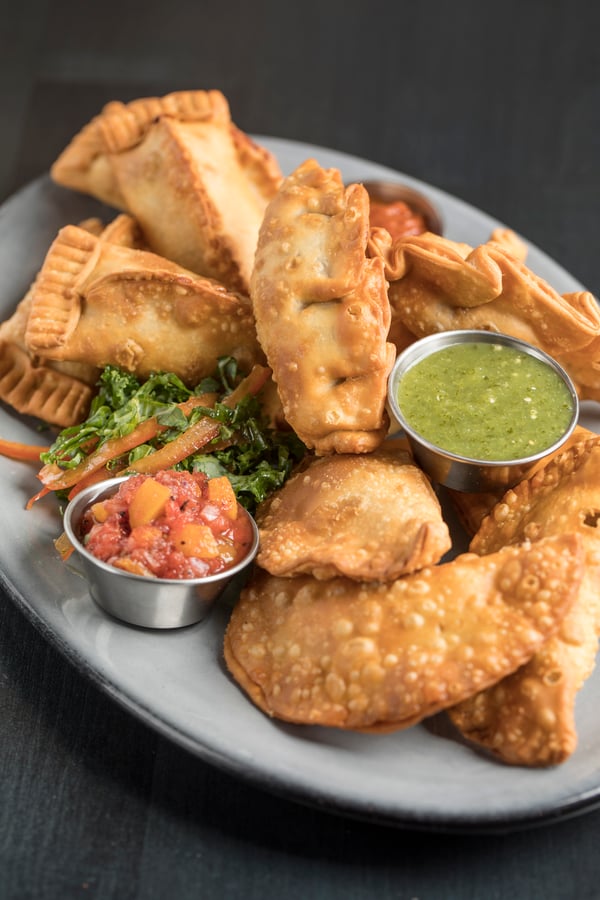 "Explore the flavors of South America in each and every taste" couldn't be more accurate for this new and exotic restaurant located right on Eddy Street. Even if Livery was not just a short walk from campus, it would definitely still make this list.
This restaurant offers a variety of beautifully plated, Latin American dishes that stay true to their home countries. With offerings such as empanadas, make your own paella, tamales and canelones, Livery is nothing like your typical Mexican restaurant. Beyond just the amazing food, it also has a full bar with an emphasis on Latin tequilas and margaritas.
"Livery's menu is Latin inspired filled with shareable plates and individual entrees," says the Livery of its offerings. "Empanadas change seasonally and are a big hit. The bar features a large variety of tequila served neat as well as fresh margaritas and cocktails including our signature margarita on draft."
Livery is a great place to come with your family or friends for a nicer dinner that is not too expensive and is a little more exotic than usual. Especially with it's great location, Livery is a stop you have to add to your game day weekends!
FROM THE FANS: "Even though this place is relatively new, I have already been back twice! Incredible atmosphere, fun drinks, and even better food!"


A local favorite, Corndance prides itself on serving only the freshest, homegrown food - "a true farm to fork experience." Chef George Pesek sources his ingredients from local ranches, orchards, and fields, and pairs local protein with American beer and wine to offer an experience that's second to none.
The effort they put into their food-sourcing is evident in every single one of their flavorful and rich plates. The menu consists of flatbreads, pastas, char-grilled steaks, and various other upscale proteins. While it is definitely on the pricier side, you would be hard-pressed to find a better meal in the Notre Dame area - and with the dimmed lights and glass-walled wine room creating a peaceful and appetizing ambiance, the decor perfectly helps you wind down after a long game day.
The front room accommodates larger parties (30-40 people), and a reservation on game day weeks is a must. Stop by and give it a try, Corndance will definitely become one of your favorite restaurants!
FROM THE FANS: "This is in my top 5 favorites! Every dish is a showpiece. It's well worth the prices and there is nothing pretentious about the food. The way they take care in mixing the flavors is incredible."
1412 S Bend Ave. ♦ (574) 232-4244
Parisi's has been serving "Italian cuisine alla Calabrian heritage" in the South Bend area for over 35 years. It started off small in 1981, but has not lost any of its commitment to attention, quality and care, as it has grown into a crowd favorite for locals and out-of-towners alike.
Just like Italy itself, Parisi's has a wide range of dining rooms each with its own special experience. The Court features the large Hesburgh table with a view of the University of Notre Dame, while the main dining room offers a more romantic and private setting. Its menu features upscale Italian cuisine - a tasteful variety of pastas and proteins, which can be paired with their diverse wine and cocktail list.
Make sure to call ahead for a reservation or get there early, as it will fill up quickly on football weekends.
FROM THE FANS: "Amazing atmosphere and service. The food is top notch for not only this area but other areas I've traveled. GO IRISH and GO PARISI'S!"
101 N Michigan St. ♦ (574) 968-8101
Housed in a historical building in the heart of downtown South Bend, the ambiance of Cafe Navarre is usurped only by its menu. A locally owned restaurant, Cafe Navarre prides itself in making its recipes with local and fresh ingredients year round. The menu is made up of modern American cuisine with distinct European influences, and offers the best seafood in South Bend.
The interior design and ambiance of Cafe Navarre is also truly exceptional. The owners found a historic building in downtown South Bend and beautifully furnished it to create a combination of Old World Style architecture, natural light and a big city atmosphere - a wonderful environment that will enhance the great cuisine.
Cafe Navarre offers one of the finest meals to be hand in South Bend - definitely check it out if you're looking for an upscale, elegant night out.
FROM THE FANS:"Visited here Tuesday evening while on a business trip. Both the food and service was outstanding. My only disappointment is that I live 150 miles away or I would be back monthly."
115 West Colfax Av. ♦ (574) 288-1155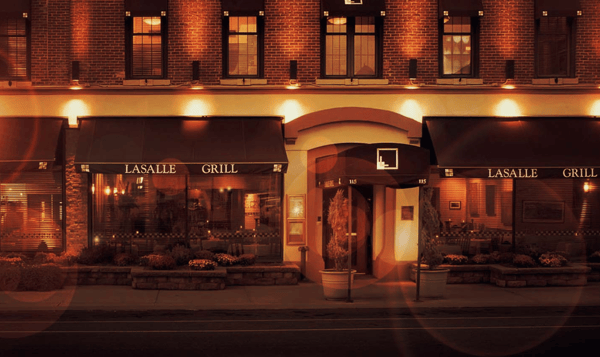 The only restaurant to win The Four Diamond Award for 21 consecutive years in South Bend, LaSalle Grill is in a category of its own. This year is its 25th anniversary, but it is not close to slowing down. The menu offers American-Bistro classics, but you are also guaranteed to have new dishes every time you go - LaSalle Grill prides itself in offering only the best seasonal, locally sourced, and sustainable ingredients.
The food itself doesn't just taste amazing, but great care is also put into presentation. They are all about the customer experience: "The comfort and warmth that comes from artisanal food and drink made just for you — is most important."
While LaSalle Grill is definitely not a casual place to stop by for quick meal, it is definitely one of the best places to eat in South Bend. They are one of the more expensive restaurants in the city, but the food is more than worth the price tag. Come in with your family to celebrate the end of an awesome game day weekend!
Wanna stay near all of these great restaurants on your next trip to South Bend? Rent Like A Champion has more than 1,000 weekend homes in South Bend available for Fighting Irish game days, campus events, or just quick getaways - and you can rent them right now!
Check out all of our amazing homes and stay walking distance from campus, the downtown area, and Notre Dame Stadium...
Did we miss anything? Let us know! Email info@rentlikeachampion.com