Clemson, South Carolina is, of course, best known for Clemson University, one of the oldest public institutions in the country. But the town itself is a true college town, full of quaint shops, boutiques, restaurants, and of course, bars.
Clemson has the perfect mix of nightlife - from dive bars, sports bars, clubs, to relaxed bars - that allow everyone in your group to have a fun night out.
Many of the downtown bars are on College Avenue, which is an easy 5-10 minute walk from the stadium, but we'll take you on a stroll through some of our favorites below...
-----
441 E. Lasalle ♦ Weekend Hours: 11 AM-2 AM ♦ (864) 654-5901
Tiger Town tavern opened its doors in 1977 as a "beer-only" pool hall. Since then, it has expanded into three adjacent buildings (and taken over the second level of its own), and become a favorite hangout for locals and students.
They offer daily food and drink specials, and have plenty of TVs to keep up with all the college football action.
FROM THE FANS: "Great bar with huge outdoor area during game days. If you are visiting at least stop by the area and check it out."
------
Sloan Street Tap Room

109 Sloan St. ♦ Weekend Hours: 2 PM-10 PM ♦ (864) 654-7210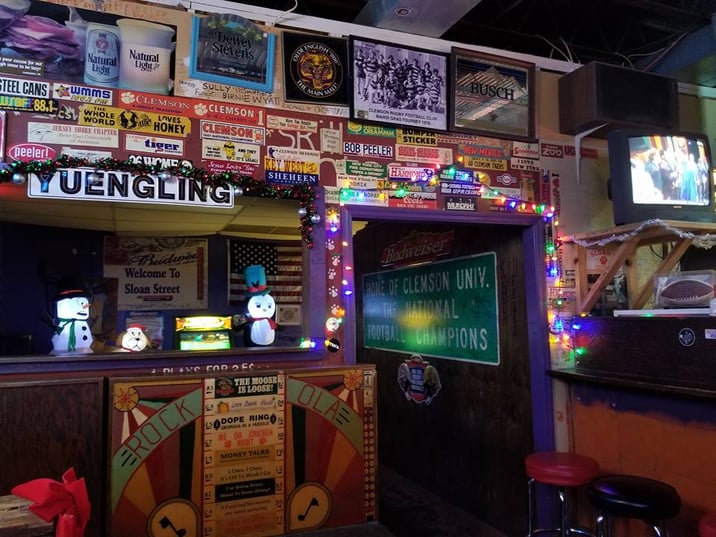 Photo courtesy of the Sloan Street Tap Room Facebook page
The Sloan Street Tap Room is a staple of downtown Clemson. It has a very relaxed feel to it, and is a great spot to grab a beer and catch up with friends.
Founded in 1979, the bar has a steady stream of loyal regulars. They only serve beer -because of the Lutheran Church a block away - and you can usually find some affordable domestics to pair with your gameday experience. If you get tired of football, they also offer several games, like darts, pinball, and silverstrike bowling.
They also apparantly serve the coldest beer in Clemson, but you may just have to go check it out and confirm that for yourselves...
FROM THE FANS: "A museum of amazing Clemson history, Dez the bartender was awesome, cool low down house music and they have $1 draft and $2 cans! What's not to like?"
-----
129 Old Greenville Hwy. ♦ Weekend Hours: 11 AM-2 AM ♦ (864) 654-5120
If you're looking to get the best taste of local life, make sure to stop by the Esso Club, which has been a staple of the Clemson nightlife for decades.
Widely renowned as one of the best college bars in the country, the Esso Club is a converted gas service station that serves up cheap drinks, festive vibes, and good times.
Any curent student or Clemson graduate knows the tradition behind the Esso Club, so it's defintely worth checking out on Friday or Saturday night!
FROM THE FANS: "Huge outdoor area during game days. If you are visiting at least stop by the area and check it out."


-----


Nick's Tavern and Deli

101 College Ave. ♦ Weekend Hours: 11 AM-2 AM ♦ (864) 973-1113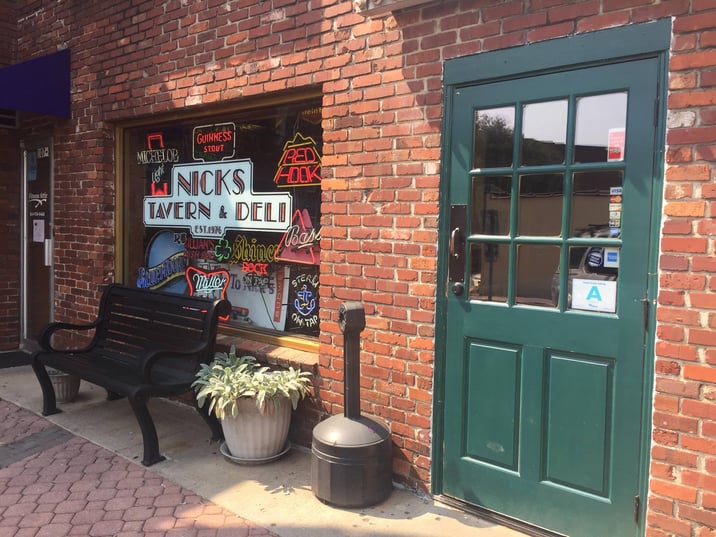 Photo courtesy of the Nick's Tavern and Deli Facebook page
Nick's isn't a huge bar, but it's got everything a sports fan could want - including a robust craft beer selection, solid pub grub, and a great atmosphere on gameday.
PLUS! There's weekly trivia, and the winner gets a photo with the bar's coveted "champions" belt... so grab some of your smartest friends and take a shot at being the nightly champs.
FROM THE FANS: "Best place in Clemson. Beer and wine only. Great food. Amazing staff. It is the kind of place that you walk into and it has history. There is awesome stuff on every wall. It's an eclectic, low key, cozy place and the food is always made fresh. Highly recommend if you like a casual, interesting, intellectual place to hang out."


-----

Backstreets Pub & Grill

102 Earle St. ♦ Weekend Hours: 11:30 AM-2 AM ♦ (864) 653-7581
Two floors, two outside decks, 32 beers on draft, fantastic wings and pizza - need we say more?
Backstreets is known for its superb bar food, strong drinks, and festive atmosphere. They offer great daily deals, and the bar staff is attentive and always takes care of the patrons.
Backstreets is the perfect place to hang with a big group and have a few drinks, but be warned... it does get pretty packed with a college crowd on weekends, so get ready for a packed house full of Clemson fans!
FROM THE FANS: "Amazing staff. Strong drinks. Great food. This is, hands down, the best bar in town. The best wings and burgers in town, and the bar staff always takes good care of patrons. Highly recommend it!"

Wanna stay near all of these great downtown hot spots on your next trip to Clemson? Check out all of our amazing homes and stay walking distance from campus, the downtown area, and Death Valley!
Did we miss anything? Let us know! Email info@rentlikeachampion.com