For just six days a year, the parking lots outside of Notre Dame Stadium turn into the streets of New Orleans (kind of).
Lines of packed cars give way to pop up tents, portable grills, and a sea of solo cups. It's a true spectacle of school spirit, fun, and the early-season optimism of a potential BCS season in South Bend.
Notre Dame game days are where many fans' best football memories are made, so follow this guide to make your next Notre Dame game day experience unforgettable!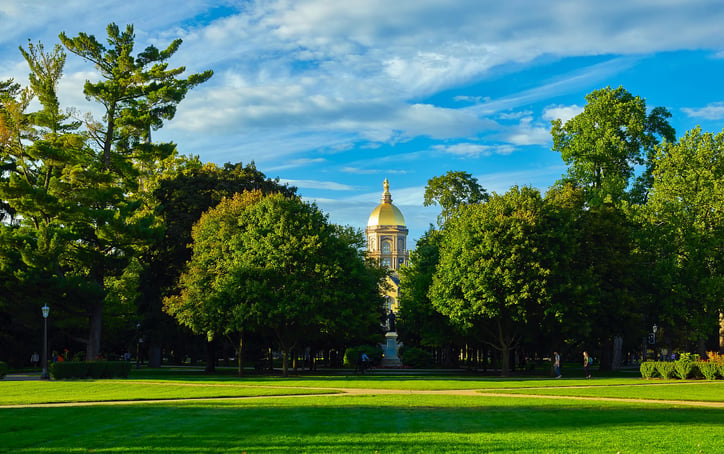 Traditions on Campus
The buzz on campus usually begins Friday morning, and by that afternoon 50-minute classes give way to lawn games on the quad, loud music, and the true beginning of the weekend's festivities.
And while tailgating may be at the heart of most people's pregame focus, there are plenty of other campus traditions that you won't want to miss.


Dorm Cookouts
Many dorms and student organizations treat gameday as a massive fundraising opportunity, offering cookouts and grill stands throughout campus for fans to explore.
If you have to choose just one, though, make sure to check out the Knights of Columbus' famous steak sandwiches. But be warned- the line for these iconinc sandwiches only gets longer as the day goes on, so make sure to reserve a spot in line early.


Trumpets Under the Dome
In one of Notre Dame's proudest and most storied traditions, the trumpeters of the ND Marching Band gather to play "Notre Dame Our Mother" and the "Notre Dame Victory March" to a small (and crowded) group of standing viewers.
It's truly an amazing event to experience in person, so make sure to catch the trumpeters the Friday before each home game in the Golden Dome.


Touchdown Push-Ups
After each Notre Dame touchown, the crowd throws adventurous fans into the air over and over again- the number of 'pumps' coinciding with the score of the game.
If you just read that and are a bit confused (and maybe a little scared)... well, that's fair. But in the midst of celebrating a Fighting Irish touchdown, look over at the student section for a glimpse at one of college football's coolest (and only) crowd aerial displays.
Local Attractions
While campus may be the center of any game day, the area surrounding Notre Dame offers plenty of non-football fun and adventure.
If you get into town early (or are dragging your feet about leaving), stretch your legs and check out some of the area's local attractions.


St. Joe's River Walk
Run, walk, or bike, as you explore St. Joseph's River, a river walk that loops through South Bend and nearby Mishawaka!
Approximately 12 miles, the trail is a great way to enjoy the cool fall weather, wind down after a day of travel, or get to know the various neighborhoods near the university campus.

South Bend Chocolate Factory
Founded 25 years ago, the South Bend Chocolate Factory has become a local favorite for anyone with a nagging sweet tooth... and a cash-cow for South Bend dentists.
They offer over 500 different chocolates and sweets, so stop in to sample some candy, or take a tour of their 58,000 square foot factory. It's a great way to get a (sweet) taste of the local South Bend community.
Getting Around South Bend
Whether you're flying into the South Bend International Airport, or driving in with your group, there are several insider tips to keep in mind to make sure your gameday weekend goes smoothly.


Parking Tips
To park on campus, you'll need a parking pass. If you have a pass, parking in your designated area is done on a first come, first serve basis. Arriving early is key, as many people get there before 10 AM.
If you don't have a pass, there are several places around campus to park; church lots, front yards, etc. Though these will be a bit further away from the stadium, it could save you the hassle of getting to the stadium super early to claim your spot.
Just drive around on gameday, and you're sure to see people holding up signs for available lots.

Ride Sharing Services
Uber and Lyft are the prominent ride sharing services in the area, but there are also several cab companies, including United Cab and City Cab of South Bend.
Using these services could help you save money on parking, and allows you to have a bit more fun at the game without worrying about how you'll get home.


Home Rentals
Finally there are plenty of home rentals in South Bend that will keep you close to campus so that you can enjoy all of these amazing gameday traditions, hassle-free.
Click below to see Rent Like A Champion's homes in South Bend, and start your own gameday traditions today!
Did we miss anything? Any recommendations? Let us know! Email jsullivan@rentlikeachampion.com