This year's Rent Like A Champion Photo Contest once again brought us some of the best college football images from across the country - with hundreds of fans nationwide submitting their memories with friends, families, and loved ones as they cheered on their favorite teams.
And as is always the case, choosing only a handful of photos to showcase as finalists - let alone a winner - is a near-impossible decision.
Yet after plenty of deliberation, we present our final selections for the 2019 Rent Like A Champion Photo Contest, beginning with our winner...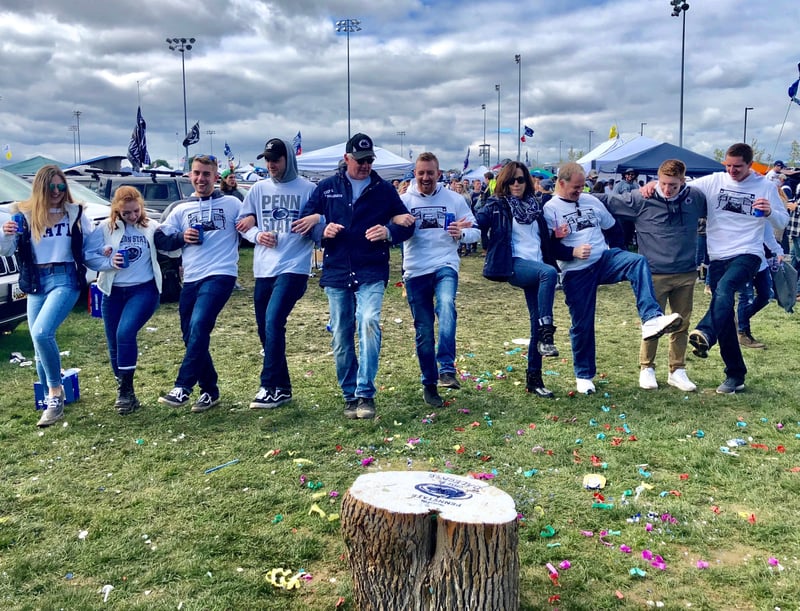 "See the man in the middle in the blue jacket and hat? That is my dad, Dale, and the inspiration and founder of our annual trip to State College for the Penn State "DaleGate"... The DaleGate is award winning - we have won three separate tailgating honors during homecoming over the past couple of years that we hang proudly at each event...



Each year we have about 150+ individuals that come together to celebrate our PRIDE. The other wonderful family that is a part of making this possible works for days/weeks to prepare an awesome breakfast and lunch spread to feed the troops. Their patriarch's name is Chip, and come on - we couldn't not bring the 'Chip and DaleGate' to life!

Needless to say, with this huge group, renting in State College is always a challenge, headache and stress for us. So that's why we turned to Rent Like a Champion... this helps us to ensure we can still all come together with our friends, family and the usual group of strangers that just must be a part of the best Penn State tailgate of the year."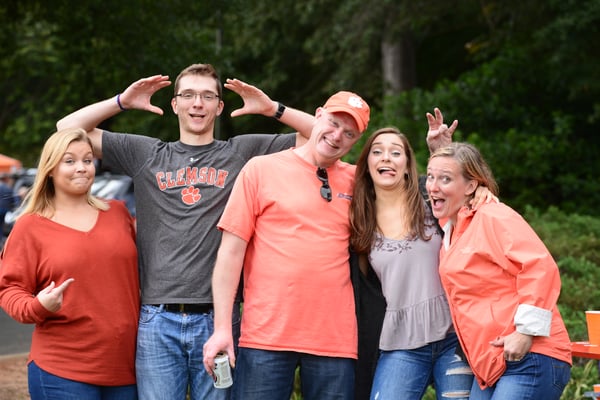 Oddly enough, the young girl second from the right, the one NOT wearing orange, was the Clemson senior we were visiting! She just graduated and we are so proud of her, and so glad to have made it to a game or two! Go Tigers!!!"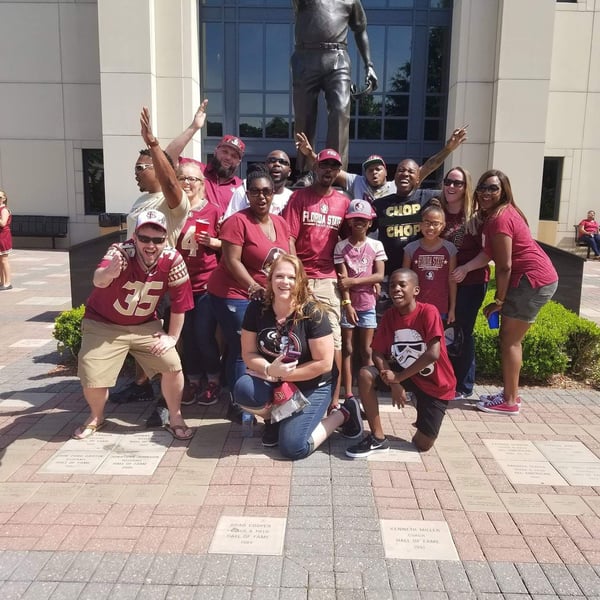 "Well this particular memory is from the spring game '18. We have our group that has season tickets and we all rent a house together and go the games. One of my greatest memories as a Seminole fan!"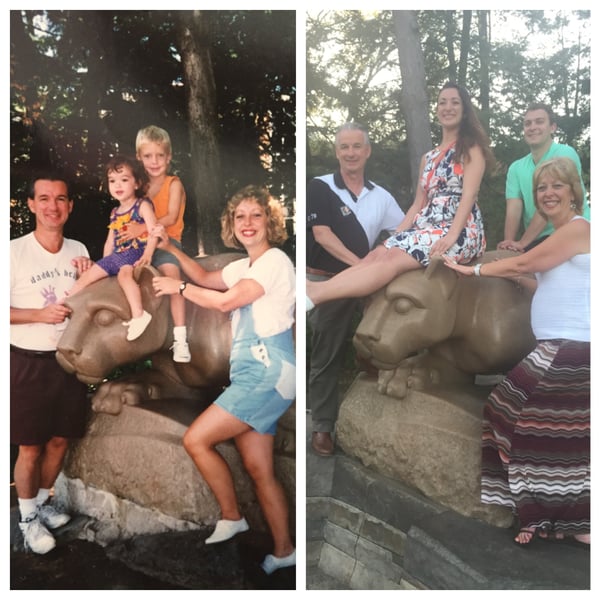 "My husband and I our graduates of Penn State as are our children. We have been returning to Penn State for football games, graduations, and arts festivals - always staying with Rent Like A Champion. We recreated this picture with the Nittany Lion when my youngest daughter graduated from PSU."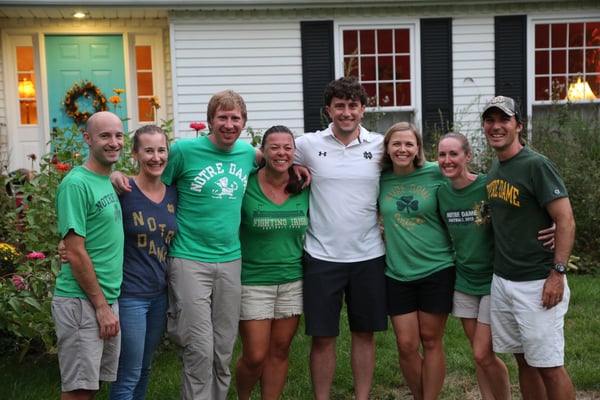 "A group of '03 grads hanging out at our rental house after an ND win. This was the first time in 15 years that we were able to get a large group of friends together for a game. Not only did we enjoy catching up and reliving our glory days, but between us we now have 15 kids and many of them came for the weekend and got to play together too."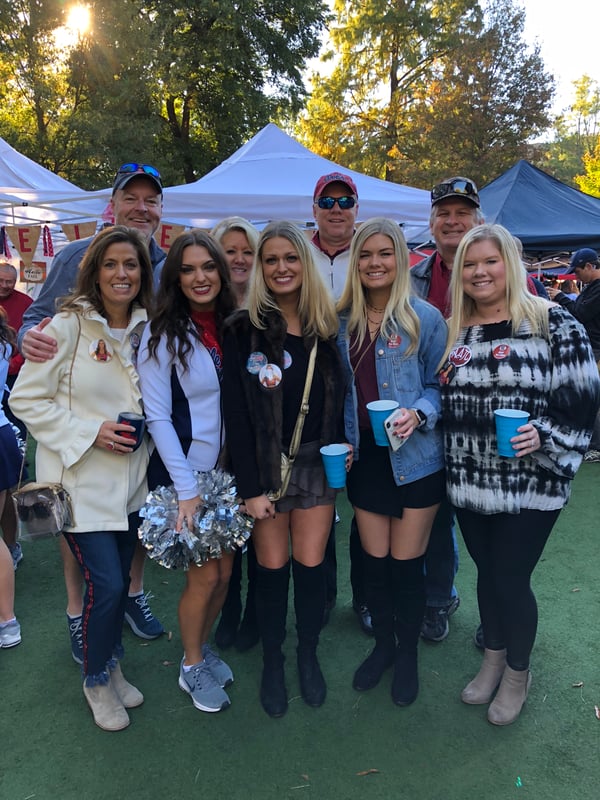 "Our good family friends are die hard USC fans. We have known them for 20 years. Our girls are Ole Miss Rebels. We waited 6 years for this SEC game between the two teams at the Vaught Stadium. It was a great day in the Grove and fantastic weekend in Oxford MS. Even though the Rebels lost, we will always cherish this special time we had at Ole Miss with our dear family friends.

On a side note , that same weekend our Rent Like a Champion host was very gracious and welcomed us with a crockpot of pulled pork and apple cobbler and Grove party supplies! An epic weekend indeed at Ole Miss!"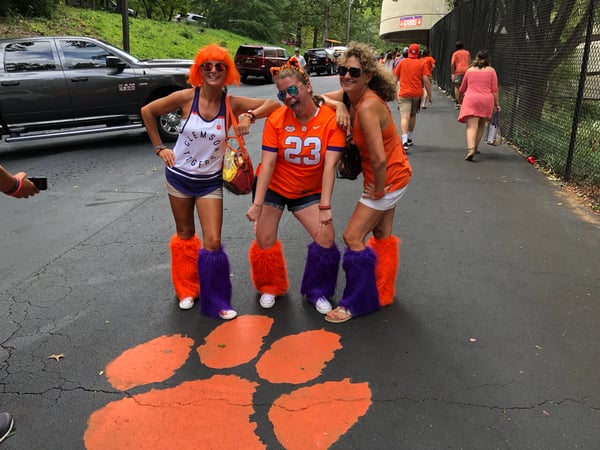 "The photo I submitted includes my cousin, who flew into Clemson from Buffalo, my son's girlfriend from Charleston and of course myself. We make almost every single Clemson home game and were fortunate enough to be at Clemson's 2016 and 2018 National Championship in Tampa and Santa Clara. We are total die hard fans and will never pass up a stay in Clemson or wherever they happen to be playing!"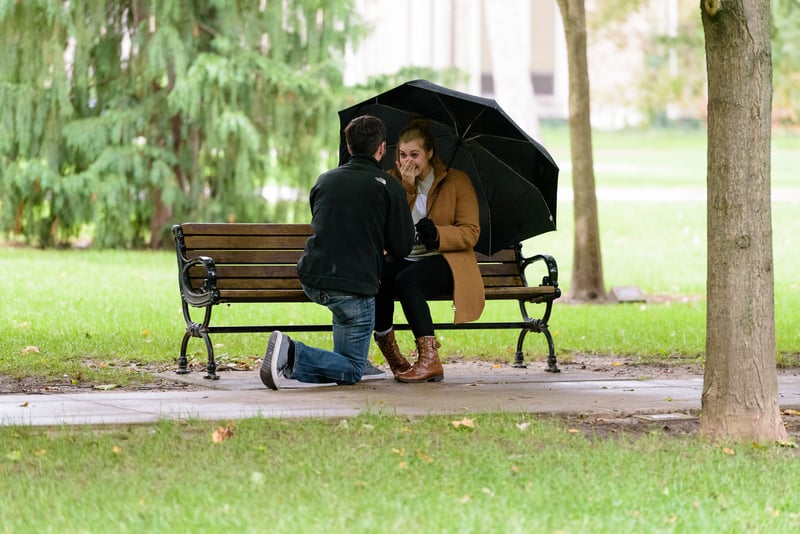 "Each year our friends rent a RLAC house for a reunion. This year, our Notre Dame group had a wedding in the fall and decided to forego the RLAC reunion house for the year. I was sad, but understood since it's so difficult to organize each year!

Much to my surprise, my boyfriend (since freshman year at Notre Dame) pulled off an epic surprise, he 'spontaneously' drove us out to South Bend for a game, proposed in front of the Dome, then threw an engagement party at a RLAC home where all of our friends (from across the globe!) were waiting to celebrate with us. Thanks for being such a big part of a great day!"
Thanks so much to all who submitted - and be on the lookout next year when we'll be looking for a whole new collection of memories for the 2020 Rent Like A Champion Photo Contest! Speaking of which...
Ready to start making memories?
Weekend rentals are now available for the 2019 college football season, so no matter where your next game day takes you - start by booking your Rent Like A Champion home, to keep making memories all weekend long...