Rent Like A Champion has officially eclipsed the 1,000 home mark in South Bend, Indiana.
What started as a way for a small group of fans to find housing close to Notre Dame Stadium for game days, has now grown into the area's largest vacation rental service.
But this isn't about us - this is about you.
Since 2006, more than 70,000+ fans across the country have used our service to not just stay closer to the stadium - but also to stay together for the entirety of their Rent Like A Champion weekend...
How the passion of Notre Dame football helped jumpstart Rent Like A Champion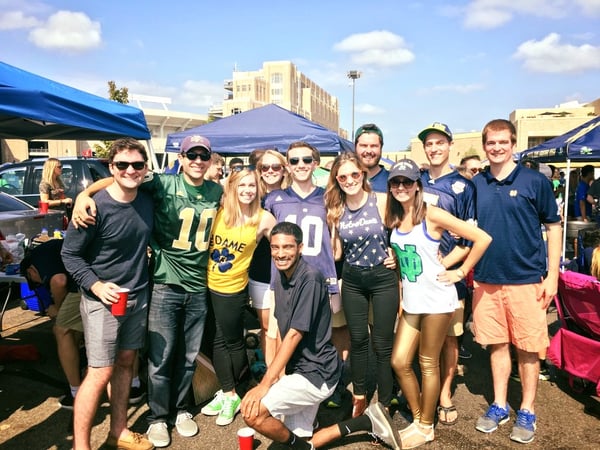 "Notre Dame and the surrounding South Bend area was absolutely the perfect community for us to launch this service," says CEO Mike Doyle, who was Rent Like A Champion's first hire as a sophomore at Notre Dame.
"Obviously the Fighting Irish have one of the richest histories in college football, but add to that the incredible atmosphere - from the tailgate, to the stadium, to all of the restaurants and bars in the South Bend area - and you can see why Notre Dame becomes such a vacation destination on game days."
It certainly helps that the RLAC team are fans ourselves, as it allows us to cater the rental experience specifically for the perfect college football fans traveling in.
"I think Notre Dame fans appreciate that everyone they work with - from our customer service team, to the homeowners whose home they're renting - stay up on the biggest games, new team developments, and the college football season more generally," says Betty Graham, a member of the Customer Experience team.
"I went to Notre Dame myself and try to get out to a game every fall," she adds. "So I'm the perfect person to help fans, because most years I'm right alongside them - checking schedules, making plans, and getting excited about football season."
South Bend fans who have experienced the difference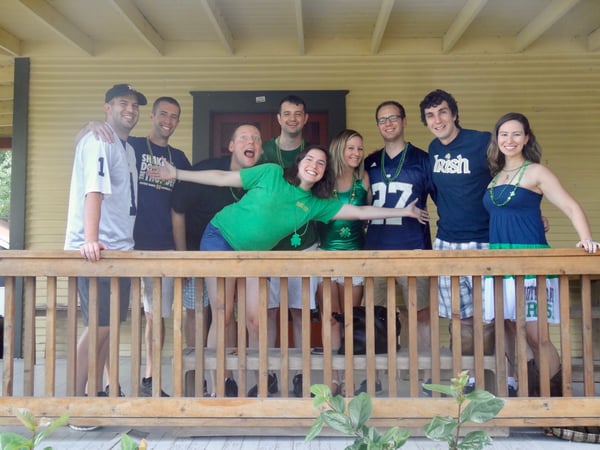 Last year alone, of the 18,000+ fans who stayed with us nationwide, more than 8,000 of them were for weekends in South Bend - from Commencement weekend, to AYOP, to, of course, Notre Dame game days.
And as our Rent Like A Champion community of hosts in South Bend has grown - so too have the loyal guests who continue to use our service year after year.
"I'll never use a hotel in South Bend again," says Megan H, a Notre Dame alum and repeat Rent Like A Champion guest.
"Going back to campus with my best friends is easily my favorite weekend of every fall, - not only are Rent Like A Champion's properties clean, convenient, and well-kept, but the homeowners are friendly and helpful. Customer service is top notch as well!"
Looking around Facebook and Google reviews, and there are plenty of South Bend renters who feel similarly...
"We used RLAC this past weekend for the ND vs. USC game. Accommodations were great and host was very responsive both before and during our stay with questions we had. A basket of goodies was left as well as a stocked fridge for our use. Couldn't have asked for a better experience."
"Renting a house for the ND/Miami game was our first experience with RLAC and we highly recommend them to others. The home we chose was all that it had said it would be and more!!! My experience with RLAC was wonderful so it is easy to see why their clients, the homeowners, are so wonderful too."
"We rented a house in South Bend last weekend. It was neat, clean, close to campus, and the host had everything we needed at the house. I was well informed prior to arrival and they worked with our travel schedule. I will definitely use this site again."
More great things to come in South Bend for RLAC fans...
Just because we've reached this landmark threshold, however, doesn't mean we're planning on getting complacent.
We're already planning new and exciting ways to keep making the Rent Like A Champion experience in South Bend, even better - including our recently announced partnership with Martin's Super Markets to provide discounted grocery delivery for every rental.
And that's just the beginning.
"Our goal is to not only continue building our Rent Like A Champion community," says Doyle, "but to continue finding ways to give college football fans across the country the best possible experience on game day.
"After all," he adds, "we're fans just like you."
Ready to find out why thousands of Fighting Irish fans have made their game days unforgettable with Rent Like A Champion?
We've got more than 1,000 homes in South Bend to help you get closer to the action on game day - so don't wait! Book yours today...