You've picked your event. You've got your group together. And you know that renting a home will keep you closer to the stadium than a hotel...
And look! There's a home in your price range!
The pictures are beautiful... but you want to make sure everything is considered to ensure your group has the perfect gameday weekend - so what are the most important things to double check?
Here's our list of the key questions to ask before you book your weekend rental...

How many beds are in the home?
While your eye may be drawn to how many the home fits, that number could include air mattresses, couches, or large beds that could sleep two if necessary.... so it doesn't necessarily guarantee that everyone will get their own bed.
Right underneath the pictures and overview of the home, though, is a full breakdown of every room and the number of beds you'll find:

Cross-reference this with your group's needs - and if there's a couch where you were hoping for a bed, continue searching!
You'll need your beauty rest on gameday, after all.

What kind of parking is available?
Are you meeting your group at the house in 4 separate cars? Have an RV that needs some extra room?
There's nothing more frustrating than getting to the house after a long day of driving... only to find that there isn't enough room for your group's vehicles.
Once you've taken a quick straw poll of who will be riding with whom- and how many cars you'll need - scroll down to the bottom of the listing to find a complete rundown of the parking availability: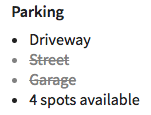 Does the home have cable/Wifi?
This is a big one that tends to get taken for granted in 2019, but not all homes come complete with cable and Wifi.
In the list of amenities, make sure to take a look at the "Entertainment" list, where you'll find a rundown of everything the owner has by way of TV, cable, Internet, along with any additional recreation areas that might be unique to their home.
When you arrive at the home, you should receive all the information you'll need on how to access these amenities - but you can always ask to receive this via email prior to arrival to ensure you're set to go as soon as you arrive.

Does the owner have pets in the house that could cause allergy problems?
Obviously, you won't find any surprise pets at the home when you arrive - but if you or anyone in your group has severe pet allergies, it's worth reaching out to the homeowner to find out if there could be any pet hair still lurking that could cause a reaction.
Underneath the "REQUEST RESERVATION" button on the right hand side you'll find a small question mark with a "Contact Host" prompt.
Click on the prompt to securely message the homeowner and inquire about any allergy-related issues, or special circumstances you'll want to double check for your group.

Are there a lot of stairs, OR with other accessibility info you should know about?
While you're sending questions to the owner, ask about the locations of bedrooms, bathrooms, and amenities - and how easy it will be for your group to access them.
If you're traveling with group members who may have issues with stairs, for example, make sure you know where the most accessible entrances are, and that you know that there will be a bedroom available to them on the ground level.
If you'd like additional help booking homes to meet your group's needs, always feel free to reach out to our customer service team directly at (855) BIG-GAME, or via email at info@rentlikeachampion.com.
Ready to start looking for yourself?
Click below to instantly start searching for 2019 rentals, and find the home that's perfect for your team this season!